As a follow up to our original article, we wanted to continue identifying opportunities to capitalize on, for any upcoming drill results that are likely to appear in a news release in the month of August. This past week has been loaded with drill results from a dozen miners and that trend should continue as companies are currently in full exploration mode. As I stated in the first article: the summer is a prime opportunity for retail investors to get a jump on brokers while they are enjoying some time off.
The Fed cut rates yesterday, but it seems to have had little impact on the price of gold. The cut was expected and for the most part already priced into the anticipated move. However, that doesn't mean that gold can't break out beyond the $1450 mark… It is my belief that we will see another surge in the coming weeks and months which will bode very well for our junior mining sector. As I was writing this Thursday afternoon, gold just spiked to over $1455 with a tweet from Trump regarding more tariffs.
So, with lots of expected fanfare in the coming weeks and accelerated reporting of drill assays, here are the next 5 companies that we are expecting results from in the coming weeks, which we believe should be on your watchlist:
---
StrikePoint Gold Inc. TSX.V-SKP
StrikePoint Gold is a gold exploration company focused on building high grade precious metals resources in Canada. The company controls two advanced stage exploration assets in BC's Golden Triangle, the past producing high grade silver Porter Project and the high-grade gold property Willoughby, which is adjacent to Red Mountain. The company also owns a portfolio of gold properties in the Yukon. However, for our purposes we will focus on their projects in the Golden Triangle.
The Willoughby Property
The company announced on july 31st that they have begun Phase I of their drilling program on the North zone of their 100%-owned Willoughby property located near Stewart, in British Columbia's prolific Golden Triangle. It is just seven kilometres east of Ascot Resource's advanced-stage Red Mountain Gold Project.
The objective of the Phase I program is to expand and test the North Zone, following up and stepping out from multiple high-grade historic intercepts. Previous explorers, which included limited underground drifting and drilling was locally focused, dominantly within only 50 meters of surface, with holes oriented towards the east. New mineralized exposure from melting alpine glaciers, coupled with an improved understanding of the structural geological setting has helped refine the drill plan, including westerly oriented drill holes.
Gold and silver mineralization at Willoughby are hosted within Jurassic volcanic and sedimentary rocks, associated with a 'Goldslide Suite' intrusive phase, similar to the adjacent Red Mountain Deposit.
Select highlights from the North zone historical drill hole intercepts include the following:
The plan is to diamond drill 1000m a combination of the North Zone of which is part of eight gold and silver mineralized zones over a 1km length strike trend. Part of their plans include stepping out from historic drilling holes that returned grades of 20-352 g/t over 5 holes with widths of 3-5 m, along with very high silver grades of between 3 – 80 oz/t. Only two areas of the property have been drilled historically.
Recent Drill Assay Data:
No recent updates with the start of drilling. SKP only recently completed a deal to buy this property back on March 20, 2019

Best Recent Drill Assay Data:
89-06: 53.21 g/t Au and 211.09 g/t Ag over 5.5 meters
94-15: 113.68 g/t Au and 121.77 g/t Ag over 3.0 meters
94-26: 20.08 g/t Au and 1,250.83 g/t Ag over 3.0 meters
95-36: 352.22 g/t Au and 194.64 g/t Ag over 2.9 meters
U96-02: 120.30 g/t Au and 2,434.84 g/t Ag over 3.5 meters
(Historical Drilling data should not be relied upon)
Assays could be expected by the middle of August and as late as early September.
For more information visit: https://strikepointgold.com/
---
Bluestone Resources, TSX.V-BSR
Bluestone Resources was created in 2017 with the purchase of the Cerro Blanco gold & Mita Geothermal projects. The Cerro Blanco gold project is a permitted, high-grade underground gold project located in southeastern Guatemala. The Mita Geothermal project is an advanced-stage, renewable energy project licensed to produce up to 50 megawatts of power.
The Cerra Blanco Gold Project
The Cerro Blanco gold project is located in southeast Guatemala approximately 160 kilometers by road from the capital, Guatemala City. It is located in the Jutiapa Department, approximately nine kilometers west of the border with El Salvador. The nearest town to the project is Asunción Mita, a community of about 15,000 people approximately ten kilometers from the project. Several notable operations are ongoing in Guatemala and can be seen here…
Previous owners invested approximately US$230 million into the project (US$60 million of which went into the Mita Geothermal project). Existing infrastructure includes portals, declines, and multiple Alimak vent raises. Three kilometers of underground development has been completed including limited trial mining.
Drilling activities continue to focus on upgrading the gold resources at Cerro Blanco. The North Zone of the low sulphidation epithermal deposit has been the focus for the first 6 months of 2019. The company expects to put out an updated resource based on the North Zone later this year. The upcoming drill program in the second half of the year will focus on the South Zone.
"The Cerro Blanco project is a remarkable high-grade deposit that continues to demonstrate the potential to grow. Using a $1,250/oz Au gold price, Cerro Blanco could generate more free cash flow in its first full year of operations should the project proceed to production than the current market capitalization of Bluestone today, a clear demonstration of the special opportunity this project represents for all stakeholders."
Darren Klinck, President & CEO
Bluestone's second infill drill program is ongoing, and is designed to build on Measured and Indicated Resources of 3.7Mt grading 10.1 g/t Au and 38 g/t Ag as defined in the Feasibility Study by the upgrading of Inferred Resources and adding new resources along known veins in the mine plan that extend outside of the current resource envelope. The majority of drill holes are being collared in the underground workings targeting key veins
Recent Drill Assay Data:
Tuesday, July 9, 2019
Underground Channel Sampling Delivers 20.4 meters grading 18.9 g/t Au & 33 g/t Ag (16.7 meters true width)
Best Recent Drill Assay Data:
Thursday, March 21, 2019
Step-Out Drill Hole Intercepts 201.4 g/t Au and 2,139 g/t Ag Over 1 meter at Cerro Blanco – 20 meters Outside of Current Resource Envelope
Drill assays will be continuously be released over the coming weeks and months.
For more information visit: https://bluestoneresources.ca/
---
Balmoral Resources TSX.V-BAR
Balmoral Resources is a proudly Canadian exploration and development company focused on aggressive exploration and development of high-grade gold and base metal assets in the major mining districts of Canada. In particular, the province of Quebec, offers a virtually unparalleled combination of accessibility, exploration, mining culture, and geological opportunity.
Balmoral, may be one of my favorite plays of the year… Originally drawn to this company by its exposure to nickel, they recently announced on July 18th that they will be drilling the southern extension of Area 51, which Wallbridge mining has been drilling with incredible success. Having done geophysical work on their property to the south of WM's land package, the company is extremely confident in their assessment of a continuation of mineralization within the Area 51 corridor and the Sunday lake deformation zone, not to mention the potential for an extension to the north… Before we continue to talk about the drilling campaign here is a bit of information on the fenelon property.
Fenelon (Area 52)
The Fenelon property (historically the 'Fenelon A' and 'Gaudet C' Properties) has been subdivided into two sections on a NW-SE basis with the eastern half assigned to the Grasset Ultramafic Complex ("GUC") property. The western half of the property surrounds the Fenelon Gold Mine property which Balmoral sold to Wallbridge in 2016.
The Fenelon property extends for approximately seven kilometres along the Sunday Lake deformation zone which, 80 kilometres to the west, controls the location of the >20 million ounce Detour Lake gold deposit and also controls all, or parts of, a number of secondary fault structures which formed in response to regional scale movements along the Sunday Lake deformation zone. One of these – the Area 51 corridor – has recently proved to be gold mineralized and is, along with the Sunday Lake and environs, the target of current testing by Balmoral.
The Fenelon property is accessible year-round, adding to the ability to continue their exploration efforts. Also, they have recently acquired a permanent lease on the Fenelon camp site (spring 2019) whereby they are working with neighbor Wallbridge Mining, which operates an 80 plus man, all-season camp which supports exploration in the region.
"Area 52 is a very intriguing gold target! With two gold bearing structural zones, and several east-west trending secondary faults, all colliding in proximity to an intrusive host rock which has been shown to be receptive to gold emplacement, we have a fairly unique set of favourable geological factors for gold mineralization in a large area of the project which has remained untested until now."
Darin Wagner, President and CEO of Balmoral.
Maybe the most intriguing aspect of this land package are the comparisons they are drawing to Detour Lake.
The Detour Lake Gold Deposit, has produced 20 million ounces and is located 80 km to the west along the same geological contact/structure as the one being targeted in Area 52. The Detour gold mineralization aligns with the Sunday Lake deformation zone and occurs where it and favorable rock units meet the main deformation corridor – like in Area 52!
Let's not forget the Grasset project and their nickel exposure I wrote about in my Nickel investment opportunities article… After that article was written they announced that they had discovered a new zone of nickel-copper-cobalt-gold-platinum-palladium mineralization during their first (and so far only) day of mapping and prospecting on its recently acquired RUM North Property in Central Quebec.
Best Recent Drill Assay Data: (N/A – only Historical Drill data which cannot be relied upon)
Best Recent Drill Assay Data: To be determined
Balmoral expects to have results by the end of August, in the case that they find significant visible gold in their cores while drilling an announcement may be made immediately
For more information visit: http://www.balmoralresources.com/
---
BTU Metals Corp, TSX.V-BTU
BTU Metals Corp is a Canadian-based junior exploration company focused on its highly prospective Dixie Halo gold project in Ontario's Red Lake district. Surrounding GBR's property, BTU is not unlike the previous company we covered, and is able to capitalize on the success of their neighbor. They have also identified two additional zones of D2 alteration similar to that of GBR's project yielding a very impressive deposit.
Dixie Halo
The Dixie Halo gold project consists of four properties totaling approximately 12,963 hectares surrounding Great Bear Resources Ltd.'s Dixie gold project. Great Bear reported a high-grade discovery in drill core assaying 16.35 meters of 26.91 g/t gold and 7 meters of 44.47 g/t gold in two holes on the "Hinge Zone" at Great Bear's Dixie Project (see PR dated August 22, 2018).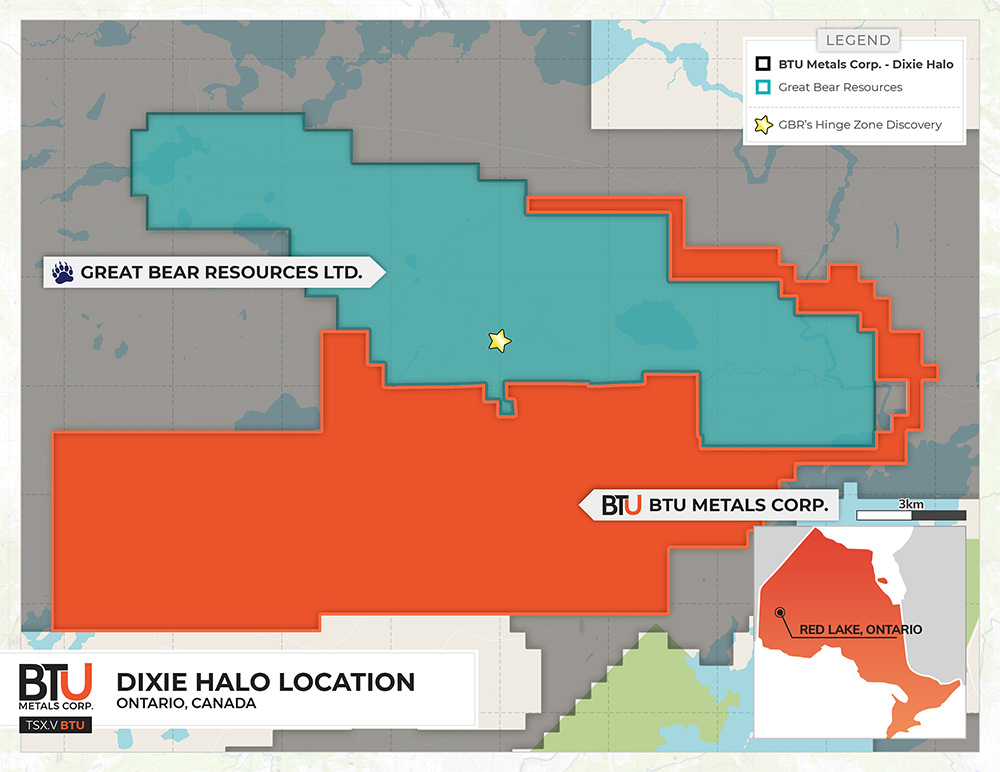 The gold occurrences of Great Bear's project occur along a 2.5 km strike between 0.5 km and 1.5 km of the boundary adjacent to Dixie Halo South (technical report by C. Lee of SRK Consulting, 2004). All these units can be DIXIE HALO I OVERVIEW traced around a fold hinge with the southwest limb of this structure laying within the Dixie Halo South property. An iron formation marker unit can be traced from the Great Bear property into Dixie Halo South.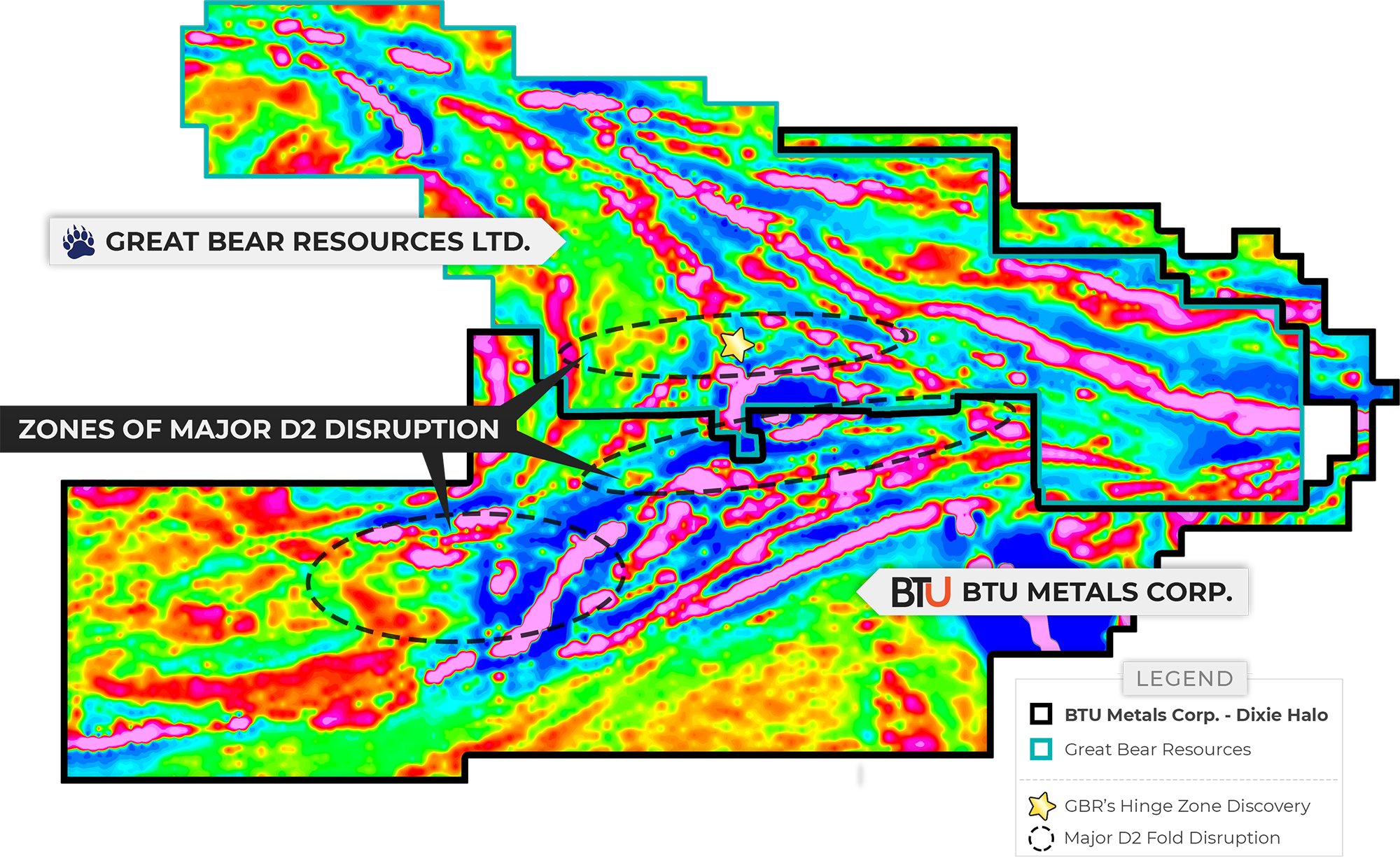 Initial findings of an ongoing, in-depth assessment of geophysical data include the existence of multiple zones of major D2 fold disruption. Well known geophysicist Mr. Alan King of Sudbury, Ontario has helped identify D2 folds within the Dixie Halo boundaries that are of particular interest to BTU as these have been successful indicators for neighboring Great Bear Resources Ltd. (GBR-TSX:V) at its Dixie Project. Additionally, the Red Lake-Campbell complex (Red Lake gold mine) also occurs proximal to a regional D2 fold where shear zones developed and acted as primary hydrothermal fluid conduits.
Additionally the "Hinge Offset" thesis, initially developed by BTU Metals advisor Dr. Tony Pryslak, helped shape the current exploration targets on the Dixie Halo property. This thesis was reinforced with supporting evidence from the Fugro Helitem Survey flown by the vendor of one of the Dixie Halo claim blocks.
On July 23, 2019, BTU announced that core drilling was underway at the Company's Dixie Halo properties, contiguous to the Great Bear Resources Ltd. Dixie Project near Red Lake Ontario. The Company also announced that other exploration initiatives including additional geophysical surveying were underway. They are currently drilling a minimum of 2,500 meters in phase one of the initial program. Mineralized intervals from the first hole are being logged and processed for analysis and drilling is ongoing.
BTU Metals work constitutes 2,500 meters of core drilling in phase one of the initial program within the Dixie Halo South property which is bordering on Great Bear Resources recent discovery.

Recent Drill Assay Data: (N/A – Available records do not show any historic drilling or sampling work within at least 1 km of the proposed location of the target.)
Best Recent Drilling Assay Data: To Be Determined
Assays expected within the month of August and into September
For more information visit: https://www.btumetals.com/?home
---
TerraX Minerals Inc. TSX.V-TXR
TerraX Minerals is a junior gold exploration company focused on a highly prospective district scale land position on the doorstep of the City of Yellowknife in the Northwest Territories. With ready access to infrastructure, TerraX has been able to cost-effectively generate multiple new high-grade gold discoveries with a view to re-establishing Yellowknife as one of the premier gold mining districts in Canada.
Yellowknife City Gold Project
Focused on the Yellowknife City Gold project, which encompasses 783 km2 of contiguous land immediately north, south and east of the city of Yellowknife. The project lies on the prolific Yellowknife greenstone belt and covers 67 km of strike length on the southern and northern extensions of the shear system that hosts the high-grade Con and Giant gold mines. Innumerable gold showings and recent high-grade drill results serve to indicate the project's potential as a world-class gold district. Being within 10 km of Yellowknife, the project is close to vital infrastructure, including all-season roads, air transportation, service providers, hydroelectric power and skilled trades people.
Highlights
783 km2 with 70 km of strike
Extension of Geology containing Con and Giant MinesHighlighta
Con Mine – 6.1M oz @ 16.1g/t Au
Giant Mine – 8.1M oz @ 16.0g/t Au
YCG properties cover the most prospective geology of the Yellowknife greenstone belt
Mineralization, scale, and accessibility, analogous to world-class Timmins camp
Rare opportunity to control a major undeveloped high-grade Gold District in Canada — analogous to having 100% control over the main Timmins Mining camp
Ideally located for new discoveries – 67 km of strike with multiple high-grade zones
The Yellowknife Gold Belt is recognized as one of the major Archean gold belts in Canada, with equivalent geology and deposit types to other major gold camps such as Timmins (Destor-Porcupine Break) and Val-d'Or (Cadillac-Larder Break). It has produced over 15 million ounces of gold. It is considered by TerraX and others as having the same potential as any of the other major gold belts in Canada. It is the least explored, both in terms of level of exploration activity, and in the search for variable deposit types that have become significant producers in other Archean gold belts.
Crestaurum and Sam Otto are the main targets of the 3500m summer drill program which will be the focus for expansion of gold deposits beginning on July 5th, 2019. The targets lie within 5km of each other in the Northbelt Core focus area of the project. These data driven targets are the highest potential and highest confidence targets. A Phase 1 delineation drill program has begun in the Northbelt zone focusing on the Sam Otto South with Crestaurum being targeted for August drilling.
"The opportunity at Sam Otto South is the potential to increase the overall strike by a factor of four and to delineate higher grade structures previously unseen at this target. Positive results could represent a material step change in our ability to deliver a significant resource."
Sam Otto remains a prospective bulk tonnage target with total strike length of 2.5km continuous mineralization. Drilling will focus on further defining the extension of mineralization.
Crestaurum continues to be a top priority target. Previous drill success together with strong vectors from surface data including magnetics and geochemistry have identified two parallel structures to the north that are new and largely untested.

Recent Assay Data: (N/A for 2019)
Best Recent Drill Assay Data: (N/A for 2019)
Assay results may be available by mid August from Sam Otto extending into September with results from Crestaurum.
For more information visit: https://www.terraxminerals.com/
---
In closing, these are just five of the many companies that have drill programs in place and that are expected to be issuing news releases over the next few weeks. We hope this article can serve as a starting point in your due diligence on these and other companies in the junior resources sector. Over the next couple weeks we will be adding additional companies to these reports of anticipated assay releases to help our readers keep up with expected announcements.
Thank you for taking the time to read this report and please join us and follow us on…
Twitter @insidexplr and @mikeymike426
Facebook @ Insidexploration and stock watch canada
Youtube (subscribe)
https://www.youtube.com/channel/UCZC6W8B-k3uo39V042iKcng
Also be sure to check out our new promo video here…
https://www.youtube.com/watch?v=F6u0AVqsHLs&t=2s
Researched provided by @Slowride, @barry, @Lexcon @Mikeymike426
Written by @Mikeymike426
Edited by @slowride and @lexcon
Disclosure:@lexcon holds a position in BAR
Disclosure: @slowride holds a position in BTU and BAR
Disclosure: Mikeymike426 holds a position in BAR
Disclosure: @Barry4180 holds positions in BTU and BAR
Disclaimer: This article was not a sponsored or a paid service and are the views of the authors. This article may contain forward looking statements and should not be considered investing advice as we are not financial advisors. We recommend seeking out professional assistance prior to making any investing decisions and as always do your own due diligence.