We recently took a 4,000 kilometre, 7 day drive from Ontario to Nevada to visit the Pamlico Ridge property, owned by Newrange Gold. The Project is located just outside of Hawthorne in Mineral County and it sits within a geological feature known as the Walker lane Trend. It also sits on the Pancake Range Lineament which is a well known gold conduit that is host to several mining operations. One of which happens to be the Kinross Gold operation at Round Mountain.
Nevada is host to several operating gold mines and in 2018, the state of Nevada produced 5,581,160 troy ounces of gold. That accounts for 78% of the gold production in the United States and 6.3% of the world's production. Needless to say, it is one of the largest industries in the state of Nevada. So when we set out to Nevada to see the Newrange Gold property we also aimed to find out what drives the mineralogical forces at play in the State of Nevada.
Here is a brief history of the Pamlico District , which can also be found on the Newrange Gold website.
Discovered about 1884, the Pamlico District quickly became known as one the highest grade gold districts in Nevada. The earliest record of mining in the area dates back to 1885. Subsequent high-grade underground mining exploited many veins in the district through numerous inclined shafts and adits. Since at least 1900, the Pamlico Project has been tightly held by family groups and limited modern exploration has been done since.
Like many districts of the time, production was shipped to custom mills in existing mining districts such as Aurora and the Comstock Lode, the recovered metal often being inventoried as production from those districts rather than from the actual district of origin. The United States Geological Survey estimates production from the district between 1885 and 1900 to be roughly 50,000 ounces of gold.
Approximately 300 adits, spread across the property, remain as a reminder of what once was a wealthy mining community. Walking and crawling through these drifts, man ways and stopes really gives you an appreciation for how hard the miners worked to get the gold out of the mountains. The scale of the underground workings was impressive to say the least, especially considering the tools they had to work with. The mining appeared to be a lot easier than what we see in Cobalt due to the fact that on this property, you could mine with a pick and a shovel with very little need for drilling and blasting.
It's important to understand the geological forces at play in Nevada before we discuss Pamlico any further. One of the most important aspects to consider is the proximity to the San Andreas Fault system. The state of Nevada has had a very complex and violent geological past and highlighted below are some of the features and occurrences which allowed Nevada to be one of the highest gold and silver producing districts in the world.
The San Andreas Fault
The San Andreas Fault system is one of the most well known faults in the world. This system runs roughly, 1200 kilometers on a Northwest/southeast trend through the state of California and along the Pacific coastline. This is where the Pacific Plate and the North American Plate meet to form a transform plate boundary. This is when two plates are sliding past one another instead of crashing into each other like in a subduction zone fault. Transform plate faults are often violent when they shift but overall have very little effect on the landscape aside from the gouges it has left behind in California. We have to go back to an earlier time, before the formation of the San Andreas Fault to understand what shaped the west coast of the United States.
The San Andreas Fault only came into existence approximately 30 million years ago, when The Pacific Continental Plate and the North American Continental plate first met. Prior to this, another oceanic plate called the Farallon Plate, was disappearing beneath the North America plate at a subduction zone. This plate boundary is ultimately responsible for the formation of the Sierra Nevada mountain Range and the coastal mountains of California. Furthermore it was the driving force behind the many fault systems, mountain ranges, ignimbrite fields and caldera complexes that littered the California/Nevada landscape long ago.
Calderas in Nevada
As a result of the shifting Tectonic plates along the San Andreas fault (Farallon Plate/North American Plate) system, calderas were formed throughout many parts of Nevada. Calderas form on micro plates where the earth's crust becomes very thin as a result of The Oceanic Crust (subduction plate) moving under the Continental Crust. This creates a convection current which produces an anomaly called a mantle wedge. This in turn brings super heated magma much closer to the surface where it reacts with ground water to lower the melting point of the overlying rock layer. It's the volcanic equivalent to the perfect storm which creates conditions for massive volcanic eruptions. After the eruption the magma chamber often collapses on itself, creating the caldera. These events were very common to the east of and parallel to the San Andreas Fault millions of years ago.
Nevada is host to 3 other major systems which had explosive silicic activity, two of which; The Western Nevada Caldera's and the The Central Nevada Caldera's extend into the northern part of the Walker Lane Trend while the the Indian Peak–Caliente caldera complex spans across the Nevada border and into Colorado These calderas create hydrothermal systems which are in part responsible for Nevada's highly mineralized geology which is no surprise considering there have been 6 identified caldera forming events with lulls of 2-4 million years in between in the last 25 million years.
These systems originated closer to the Sierra Nevada mountain range and over time have moved east/north east as the earth's crust shifts towards to Pacific Ocean. Over Millions of years geological forces created a track of alteration over the Nevada Landscape which can be seen in the Mcdermitt Volcanic field situated just North-East of Reno. This caldera complex is considered to be the point of origin for the world's largest magma reservoir, which now rests under Yellowstone Park. This caldera complex is situated mostly in Wyoming and crosses into both Montana and Idaho. In recent years it has been a hotbed of activity but that's for another article.
Walker Lane Trend
The Walker Lane trend is essentially a fault system parallel with the San Andreas Fault that lies east of the Sierra Nevada Mountain chain and was created by the pressure between the North American and Pacific plates. Stanford geologist Amos Nur co-authored a paper in the late 1980s speculating that the San Andreas Fault might be looking for a new outlet within the Nevada desert. Not more than a few years later, a 7.3-magnitude earthquake near the town of Landers, California, supplied compelling evidence of a network of faults that geologists had not previously identified which connected the Eastern California Shear zone and the Walker Lane Trend. This would ultimately provide a better understanding of the Walker Lane Trend and offer some insight to the regions geology.
For over 100 years the entire Walker lane stretch has produced significant amounts of gold and silver amongst other metals even during a time when there was limited understanding of the driving forces that fed the system in the first place. Today the Walker lane is host to a number of producing mines and the geological features are far better understood which has opened up new opportunities within past producing mining camps like the Pamlico Ridge property.
Pancake Lineament & Local Mining Operations
The Pancake Lineament is a very important regional feature as it is a known conduit of gold mineralization that crosscuts the Walker Lane Trend. It is also host to a number of producing and past producing mines, Round Mountain alone has produced over 10 million ounces of gold. A few other known mining operations along the pancake trend are The Bodie, Aurora and Borealis mines, and they have produced good numbers of their own. Bodie is more of a Historic tourist town at this point since it was abandoned in the early 1900's. However, in its prime Bodie produced over 34 million dollars worth of gold.
Round Mountain Mine-Kinross
The Round Mountain deposit is a very large, epithermal, volcanic-hosted hot springs type of precious metal deposit along the margin of a buried volcanic caldera. The intra caldera collapse features and the localized faulting along the pancake lineament which provides a major structural conduit for gold bearing hydrothermal fluids. Gold mineralization appears to be associated with Quartz, adularia, pyrite and iron oxides. Gold is mainly found in shear zone fractures, the veins and dissemination typically occurs within the more permeable units of rock generally progressing through clay creating narrow vein structures. They currently use their brand new 9 million square foot heap leach pad and a Vertical Carbon-in-column Plant to extract their gold which is a very low cost method of extraction. I could go into more detail but there is not much point as you will see as we continue. The relevant points have been covered.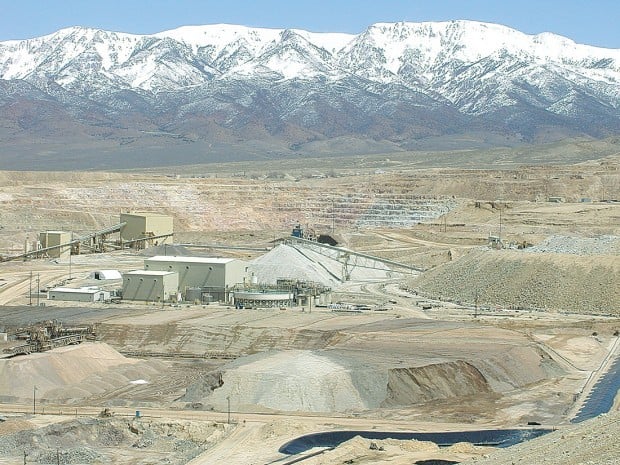 Aurora-Hecla Mine
The Aurora property is a 12.6 square-mile section of land and located in the northeastern portion of the Bodie Hills in Mineral County, approximately 105 miles southeast of Reno, Nevada. This region is an epithermal gold-silver deposit, also within the Walker Lane and along the Pancake Range Lineament which offer potential for further discoveries.
Historic production of about 1.9 million ounces of gold occurred on the property from an anastomosing system of banded quartz, adularia and sericite epithermal veins. Three stages of veining have been identified at Aurora, beginning with early coarse-grained quartz-dominate vein stage followed by a banded quartz-sericite-adularia veining stage with electrum, silver sulfides, sulfosalts and base metal sulfides, and lastly a coarse-grained quartz veining stage. A late stage calcite overprint is also observed with vug-filling coarse calcite.
Borealis Mine-Radius Gold
Currently owned by Radius Gold, the gold deposits in the Aurora-Borealis-Bodie district occur as both high grade vein-hosted low sulphidation deposits and as high-sulphidation alunite-kaolinite gold-deposits. Total historical precious metal production along this approx. 32 kilometer trend, from the mid-19th century to the mid 1990s, has been estimated at 4.0 million ounces of Au, and 11.2 million ounces of Ag.
Both oxidized and gold-sulphide deposits occur within the district, with gold-sulphide mineralization occurring at the bottom of most pits, the most significant of which is beneath the Freedom Flats deposit. Previous operators of the Borealis mine also believe that potential high-grade feeder structure remain beneath existing pits. Drilling of these zones has intercepted spectacular grade and thickness, in particular, the Freedom Flats area
Pamlico Property- Newrange Gold
Looking at the geological controls of the Pamlico property and understanding how they correlate with the local geology along the Pancake lineament and the Walker Lane Trend is very important to understanding the deposit. In my opinion there are more comparables to the Round Mountain deposit than some of the other projects on the Pancake Lineament but ultimately more data is required to say that with any certainty. Below is the geological description of the Pamlico Ridge property.
"The Pamlico deposit is a high-grade structurally controlled gold dominated, epithermal system. Deposits of this class often have very robust economics and are less prone to adverse sensitivities due to swings in metal prices as evidenced by currently operating mines at Midas, Fire Creek and Round Mountain. Most of these deposits, originally mined as high-grade "bonanza type" veins during the late 1800's and early 1900's were largely ignored by many exploration geologists as "insignificant, small veins" during subsequent exploration cycles. Currently operating deposits with similar histories include the Round Mountain mine, Midas (Ken Snyder) mine, Hollister, Fire Creek and Denton Rawhide. The now idle operations at Aurora, Borealis, Olinghouse, Comstock Lode and Bodie, California share similar discovery and development histories.
At the property scale, structure includes Tertiary NW striking, right lateral strike slip and right oblique slip faults related to the Walker Lane Trend with sub-parallel fracture cleavage and coeval sinusoidal, NS and NE striking first and second order extensional "en echelon" or "gash" faults. Large EW to NE trending right oblique (dextral) strike slip faults related to the Pancake Range Lineament transect the property with little if any apparent offset by, or of structures related to the Walker Lane and are probably coeval.
Intense folding is evident everywhere in the carbonate sediments of the upper Luning Formation. It is likely that unrecognized overturned folds are present within the sedimentary package and potentially provide important controls for localization of mineralization in these sediments."
There is a potential theory, that the Pamlico Ridge is sitting on the edge of a once active caldera or at the very least a highly active epithermal system formed by magma reservoirs which were once part of the Western Nevada Caldera Complex. After reviewing the local mining operations, being on site and reviewing geological and topographical maps of the area we are inclined to believe that there may be more to this theory.
When a Caldera forming event occurs, the magnitude of the explosion from the volcano is so large that it collapses into itself and after reviewing satellite photos that encompass Pamlico Ridge, you will notice that it has a circular shape with a depressed center. This could potentially explain some of the folding and some of the near vertical structures that are present at Pamlico ridge and why the property feels like rolling hills versus the mountainous landscape surrounding the Hawthorne Valley.
Notice how this mountain complex stands out, especially when compared to Round Mountain, which seems to lack any sort of noticeable geological features from satellite imagery. Pamlico Ridge and Round Mountain are both on the Pancake Range lineament and there is the potential that the magma reservoir that fuelled the Round Mountain deposit also played a part in the formation of the Pamlico Ridge deposit.
When we discussed this notion with Mr. Carrington and Mr. Archer, they both reluctantly replied that there is not enough evidence to support this yet but they could not rule it out either, given what they have seen on the property. Admittedly, it would take a lot more information to say definitively what the driving force of the deposit is, but they both seemed open to the possibility.
In conclusion, this site visit was very informative and upon doing our research before and after being on the property we can confidently say that this is one deposit we will be watching very closely. The planned IP Surveys and drilling in the Pediment zone will help to paint the bigger picture on this property and only time and testing will prove out the theory regarding this property being on a Caldera or driven by an ancient magma reservoir, but in the interim we are looking forward to Newrange Gold advancing this project and putting together a proper 43-101.
Refences and picture sources
http://www.sci-news.com/geology/science-supervolcanoes-utah-nevada-01612.html
https://pubs.geoscienceworld.org/gsa/geosphere/article/13/4/1066/350213/geology-and-evolution-of-the-mcdermitt-caldera_
https://pubs.geoscienceworld.org/gsa/geosphere/article/9/6/1562/132683/the-36-18-ma-central-nevada-ignimbrite-field-and
https://miningdataonline.com/property/133/Round-Mountain-Mine.aspx
http://www.radiusgold.com/s/NewsReleases.asp?ReportID=762218
https://www.newrangegold.com/site/assets/files/3784/nrg_corporate_presentation_october_2019.pdf
https://www.newrangegold.com/projects/pamlico-gold-project/location-and-history/
https://www.researchgate.net/publication/273648189_The_36-18_Ma_Central_Nevada_ignimbrite_field_and_calderas_Great_Basin_USA_Multicyclic_super-eruptions
https://pangea.stanford.edu/noblegas/chronology-silicic-volcanism
Disclaimer
Newrange gold is a Sponsor of Insidexploration however the thoughts and opinions expressed are the author and do not represent that of the company. The Author does not currently hold a position but has bought and sold on several occasions and will do so without warning.
Insidexploration has prepared this document for general information purposes only. This document should not be considered a solicitation to purchase or sell securities or a recommendation to buy or sell securities. The information provided has been derived from sources believed to be accurate, but cannot be guaranteed. This document does not take into account the particular investment objectives, financial situations, or needs of individual recipients and other issues (e.g. prohibitions to investments due to law, jurisdiction issues, etc.) which may exist for certain persons. Always do your own due diligence and consult a licensed investment adviser prior to making any investment decisions. Junior resource companies can easily lose 100% of their value so always reference www.SEDAR.com for important risk disclosures.