In the first segment of the Top 20 of 2020, we covered 10 of the 20 junior miners we have identified as companies to watch in 2020. This article is a continuation of part one and the companies are listed in no particular order. We hope you have found value in our articles and look forward to bringing you new opportunities as we progress through the year.
Summary
BTU Metals, BTU
Pure Gold Mining, PGM
Pan Global Resouces, PGZ
VR Resources, VRR
Gatling Exploration, GTR
Minera Alamos, MAI
Nighthawk Gold Corp, NHK
Canada Cobalt Works, CCW
Compass Gold, CVB
Nevada Copper, NCU
BTU Metals Corp. (TSX.V:BTU)
BTU Metals Corp. is a Canadian based exploration company focused on their Dixie Halo project in the Red Lake mining district. The Dixie Halo gold project totals approximately 14,770 hectares and borders much of Great Bear Resources Ltd.'s (TSX-V: GBR) Dixie project. Great Bear has had great success in reported gold mineralization from a high-grade gold zone that includes intervals of 16.35 meters of 26.91 g/t gold and 7.00 meters of 68.76 g/t gold which is open along strike and at depth and BTU aims to find the extension of mineralization on to their property. Until hole 13 came along…
Early in 2019, BTU completed the transaction for the Dixie Halo South property, which is contiguous to GBR's Dixie Halo property and went right to work analyzing the existing data available on the property. In charge of this task was Mr. Alan King, who at one time was the chief geophysicist for Vale Global Exploration working on geophysical applications and target generation using regional and global data sets. He quickly identified some highly prospective targets which was followed up by an aggressive exploration campaign across the property. With early indications of favorable geology BTU built a team of experienced board members to assist in the development of the company and its newly acquired assets. Here is a list of those additions…
Victor Bradley served as chairman of Osisko Mining from 2006-2014 and during his tenure, Osisko unlocked the porphyry gold target at Malartic and took the mine from first drill hole to commercial production in 6 years.
Mr. Lacoste is currently President, CEO and Director of Monarch Gold, a gold producer with a Measured & Indicated resource in excess of 2.5 million ounces
Bruce Durham, a Professional Geologist with 40 years in Mineral exploration and a graduate of the University of Western Ontario. He has held numerous senior positions with successful exploration groups and currently is CEO and Director of Nevada Zinc Corporation.
Ms. Margot Naudie (CFA) is President of Elephant Capital Inc. and has 25 years of investment experience managing long-only, long/short, and global natural resource strategies.
BTU's technical team identified numerous target areas via analysis of historic airborne and ground based exploration databases, in conjunction with information from their own geophysical surveys and prospecting work. New mineralized zones, prospective for the accumulation of significant gold mineralization, were identified in mafic to ultramafic rocks as well as in association with pyritic sediments, iron formations and felsic intrusive units. Their work resulted in the definition of numerous high priority targets to test and in April the company received permits to drill on the Dixie Halo South and Dixie Halo South-East properties
Their drilling campaign started with 8 holes, totaling approximately 1,300 meters along with some short holes focused on IP anomalies near the north central boundary and about 1.5 km south of GBR's "Hinge Zone". The initial results indicate that the sequence of rocks associated with the "LP Fault" does come through the Dixie Halo claims at the zone labelled Dixie Creek and several holes intersected 1.8 g/t over 0.5 meters. The LP Fault Zone is a property scale contact between mafic – felsic volcanic contact and was named as such by Great Bear Resources (GBR). This led them to do, Spatiotemporal Geochemical Hydrocarbon testing (SGH testing) since it has proven to be beneficial to GBR's exploration efforts.
Then on November 28th, BTU announced that the Drilling of holes 12 and 13 identified polymetallic mineralization, including chalcopyrite, copper and gold. They immediately commissioned a VTEM survey which has provided further conformation of a potential VMS target and await the results from the SGH testing. This is a significant discovery for BTU and the drilling of these first two holes appears to be the north-western extremity of the target. This area is marginal to the strongest part of the chargeability feature and the lowest resistivity feature (best part of the target).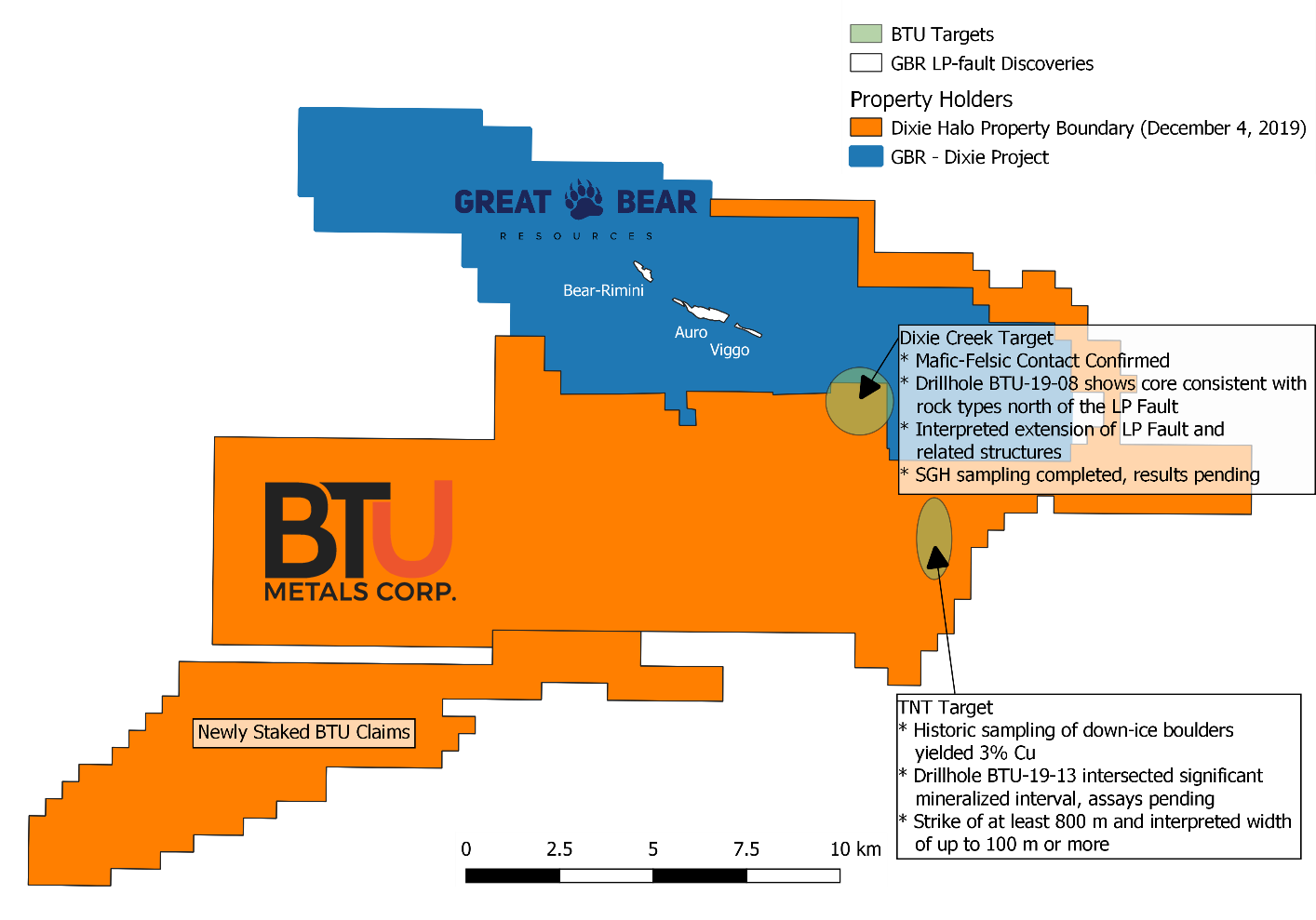 "The discovery of the new TNT Target, several kilometers away from the Dixie Creek Target, is an attestation to our geological team's methodical work in following up historical work, and in applying modern exploration techniques to identify these new targets. It adds a new dimension to BTU's exploration campaign and is testament to the potential for discoveries on the Dixie Halo property. While we continue to pursue our gold targets, soon to be aided with the SGH survey analysis, we are now eager to also pursue the potential of a VMS situation at the TNT Target."
Paul Wood, CEO of BTU
Polymetallic mineralization was encountered in hole 13 at above background levels intermittently throughout the hole, however the grade and continuity of mineralization was markedly improved beginning at about 280 meters down hole and continued right through to the end. This hole produced some impressive grades which can be found below.
Highlights:
TNT
Highlight assays from discovery hole 13 include:

44.3m of 1.14% Cu equivalent mineralization, including 30 m of 1.46% CuEq which contains 9.9 m of 2.05% CuEq and a separate interval of 7.2 m of 2.02% CuEq
Best copper and silver values came from a 1.2 m sample (313.2 – 314.4 m) which assayed 5.56% Cu, 99.6 g/t Ag, and 0.487 g/t Au (6.83% CuEq)
Best gold value came from a 0.8 m sample (339.35 – 340.15 m) which assayed 2 g/t Au, 26.9 g/t Ag, and 0.72% Cu (2.43% CuEq)

Drill holes 19-22 in the TNT zone complete and being processed for assay
Drill holes 23-24 to be complete pre-Christmas
On recently acquired Dixie Halo East-Extension ground, exploration planned once work permits are received
Dixie Creek
SGH samples currently at Actlabs for processing
Interpretation and further drill target selection on the mafic-felsic contact (LP Fault) to follow
Additional line cutting underway and additional Induced Polarization and ground magnetic surveying planned
Conclusion
BTU has now drilled 24 holes and many of which are focused on this new VMS deposit, results should be forthcoming early in the New Year and we are as excited as anyone to see how this plays out. These guys are onto something good and 2020 is shaping up to be an exciting year for BTU and its shareholders.
Upcoming Catalysts
Drill results from 24 holes
Conformation of a new VMS deposit
SGH sampling results
Extension to the current drilling campaign
Potential for additional VMS targets
For more information visit https://www.btumetals.com/?home
Pure Gold Mining (TSX.V:PGM)
Pure Gold Mining is a Canadian based company focused on putting their Pure Gold Red Lake Mine into production. This is the highest grade development stage gold deposit in Canada and will be in the top 8 percentile globally when in production. The company views this as an opportunity to use this ore body as a foundation on which to build a much larger gold mining company modelled after Kirkland Lake gold who has become a major player in the mining sector.
The mine holds a Probable Mineral Reserves of 3.5 Mt grading @ 9.0 g/t containing 1.0 million ounces of gold included in a Mineral Resource of 7,196,000 Indicated tonnes grading 8.9 g/t gold for 2,063,000 ounces of gold and 1,880,000 Inferred tonnes grading 7.7 g/t gold for 467,000 ounces of gold.
Over the last 100 years, the Red Lake Mining District in Northwestern Ontario has produced more than 29 million ounces of high grade gold, making it one of the largest gold producing districts in Canada. The Pure Gold Mine has been an important part of this history and a newly defined reserve (accessed by new development) has allowed them to expand the life of the mine. This new area shares geologic attributes including host rocks, alteration style, and structural setting with other major mines in the Red Lake Mining District Including and not limited to, Newmont Goldcorp's, Red Lake Mine.
In 2019, Pure Gold got off to a good start, with a significant increase in Mineral Resources, a positive feasibility study and a demonstrated, robust economics outlook for their project. It didn't take long for money to start trickling in as investors got on board with the project through a few private placements and in May they announced that they entered into an agreement with Sprott Capital Partners LP.(SPC). Whereby, SPC is to act as lead underwriter in a 32.5 million dollar bought deal private placement. This bought deal wound up closing at an impressive 47.5 million dollars and saw the likes of Eric Sprott become the 2nd largest shareholder of Pure Gold Mining, behind AngloGold Ashanti and joined key strategic shareholders including Rob McEwen and Newmont Goldcorp, which collectively hold more than 30% of the float.
Not long after closing the bought deal, the company signed an agreement with the Wabauskang and Lac Seul First Nations groups which established a framework of support for current and future operations of the Madsen Red Lake Mine. The following day after the agreement was announced the company reported several significant drilling intercepts from their surface drilling campaign on the Wedge Deposit at the Madsen Red Lake mine property.
Drilling highlights:
Infill and step-out drilling has been defined to upgrade and expand resources in the Wedge area. Drilling result highlights include:
108.5 g/t gold over 1.0 metre from drill hole PG19-643;
94.6 g/t gold over 1.0 metre from drill hole PG19-654;
13.8 g/t gold over 1.0 metre from drill hole PG19-649.
Previously released drilling highlights from Wedge include:
15.1 g/t gold over 5.4 metres from drill hole PG16-215;
33.3 g/t gold over 8.3 metres from drill hole PG17-467;
21.3 g/t gold over 10.3 metres from drill hole PG17-486;
19.9 g/t gold over 3.3 metres from drill hole PG18-564;
354.0 g/t gold over 1.0 metre from drill hole PG18-540;
32.9 g/t gold over 1.7 metres from drill hole PG18-600; and
23.1 g/t gold over 2.0 metres from drillhole PG18-616.
No more then 10 days later, the company announced a 90 million dollar project financing package with Sprott Resource Lending Corp. which will fully fund the costs to develop the underground mine at Pure Gold's Madsen Gold Project. Now that the company had the money, they also announced that the board had approved a "decision to construct" and by September they had finalized plans and started the construction process.
As if the progression of the company wasn't enough, they also added 20,000m to their drilling campaign and managed to double the strike length at the Wedge zone. They also found another new area between Zone 8 and the Russet South Zone which suggests that the two systems are connected. All indications are that the mineralization will continue with a high likelihood of vastly extending the life of mine and the mineral resource. To close out the year the company announced additional results from their exploration campaign and didn't disappoint.
New Wedge drilling highlights:
167.0 g/t gold over 1.1 metres from drill hole PG19-693;
51.5 g/t gold over 1.5 metres from drill hole PG19-713;
9.0 g/t gold over 1.0 metre from drill hole PG19-691;
8.7 g/t gold over 1.7 metres from drill hole PG19-700;
6.9 g/t gold over 2.0 metres from drill hole PG19-696
Additionally, a new drill hole targeting the expansive gap between the 8 Zone and Russet South mineral resources has intersected 51 meters of gold mineralization, including 9.9 g/t gold over 0.9 meter.
Conclusion
This clearly demonstrated the strength of the seven-kilometer-long gold system at Madsen and 2020 is setting up to be a very good year for Pure Gold With construction well underway and the drilling campaign proving that there is plenty of life left at this old mine. We look forward to the year ahead as it's always exciting to see mines go into production. Even more impressive is how quickly they manage to get it done.
Upcoming Catalysts
Drill results
Completion of construction
Commencement of mining
High grade intercepts
Additional drilling
Extension of known resource
For more information please visit http://puregoldmining.ca
Pan Global Resources Inc. (TSX.V:PGZ)
Pan Global Resources Inc. is a Canadian based junior resource company actively engaged in base and precious metal exploration in Spain. The company is focused on their two projects located in the district of Macia, which is Spain's most prolific mining district and has an abundance of local infrastructure. Both projects are on geological trends which are host to other operations and early success is opening the door to some good forward momentum in 2020.
Pan Gold started off 2019 by appointing Patrick Evans as chairman of the Board of Directors. If you are not familiar with Patrick Evans, he is a senior mining executive with more than 20 years' experience across a range of commodities, including platinum, diamonds, copper and nickel. He has served as CEO of Dominion Diamond Mines, Mountain Province Diamonds, Kennady Diamonds, Norsemont Mining (acquired by HudBay Minerals), Weda Bay Mineral (acquired by Eramat S.A.), Southern Platinum (acquired by Lonmin PLC), Messina Platinum and SouthernEra Resources. He also currently holds a position as a director of Mirasol Resources Ltd.
The Águilas Project
Located approximately 300km south of Madrid and 100 km North of Cordoba in the territory of Andalucia, southern Spain. The area is characterized by gentle topography, moderate climate and is accessible all year round, with good road access and infrastructure. The project covers approximately 16,333 hectares and contains a series of cross-cutting deep-seated structures within the Late Hercynian (300-310 Ma) Pedroches Batholith.
Earlier in the year they announced some drilling results and gained access to the Torrubia North Copper Target which has been the main focus of the Aguilas project since. The drilling results for the Torrubia North Copper Target should be out fairly early in the new year but here are some of the results from the first round of exploration and drilling done in 2019 on the Aguilas project.
Project Highlights:
Large consolidated mineral rights position (16,333 hectares) with multiple targets
​​1500 soil samples and >200 rock samples collected to-date
​​Mineral rights cover the >20km northwest trending Zumajo mine trend with high grade vein/breccia style Pb-Zn-Ag
Large untested Pb, Zn, Ag and Cu surface geochemical anomalies
​Torrubia Trend – up to 0.69% Cu in soils and up to 28% Cu, 33% Fe, 1.7g/t Au, 15.5g/t Ag and 0.13% Co in rock samples, and no previous drilling
​Zumajo Trend – up to 8.9% Pb, 0.97% Zn, 17.5g/t Ag and 672ppm Cu in soils and up to >20% Pb, 20.7% Zn, 235g/t Ag and 12.75% Cu in rock samples from mine dumps
​Historical data from the Zumajo Trend indicates the Pb-Ag mineralisation remains open at depth and along strike at many of the mines
​The highest Pb, Zn and Ag soil values extend more than 1.8 km associated with San Juan, San Rafael and San Cayetano mine workings and has no previous drilling or geophysics
​The only historical drilling on a 600m section of the >20 km Zumajo Trend, confirms Pb and Cu mineralisation along-strike from the main targets but no assays
​The first phase of Geophysics test has confirmed multiple strong anomalies and enhanced the targets on the Copper Trend and the Pb-Zn-Ag Trend
​A new structure has been discovered with copper and associated cobalt and silver identified over 1.8 km of strike, including up to 1.57 % Cu, 749 ppm Co and 5.3 g/t Ag in rock grab samples
"The scale of the target on the Torrubia Copper Trend is very attractive."
Tim Moody, President and CEO of Pan Global Resources
Drilling is progressing at the Torrubia North Copper Target in the Aguilas Project and as per their October update, hole 2 of the planned 5 hole program was nearing completion. Wide zones of strongly altered multi-stage breccia is evident in the drill core, including clasts with strong hematite alteration and chalcopyrite showings. These initial holes are testing a high priority soil copper anomaly extending over 1.9km of strike length and up to 0.35km width, with up to 8.4% Cu in rock grab samples of boulders and up to 1.2% Cu in outcrop. Indications are of an Iron Oxide Copper Gold ("IOCG") style mineralization and multi-stage breccia.
Escacena Project
The Escacena Project is along trend from the large Aznalcollar, Los Frailes and Las Cruces mines and within 5 km of the Aznalcollar open pit. Targets include the La Romana massive sulphide copper deposit, the untested Cañada Honda gravity anomaly and gold along strike from the Cañada Honda mine tunnel. The property has had little exploration since the mid-1990's and no modern geophysics to speak of.
The Cañada Honda target is a massive sulphide hosted copper and zinc deposit associated with an untested 1.5 x 0.5 km, 1 mGal gravity anomaly along strike from the Aznalcollar mine. The gravity anomaly and geological setting suggests potential for massive sulphide beneath overthrust Devonian sediments. Drilling by Exxon in the 1980's and Boliden in the 1990's, also shows copper and gold intervals in thrust faults up dip from the gravity anomaly.
The La Romana target includes a thick zone of stock work and massive sulphide with high copper values (e.g. DDH PR5: 4.68m @ 2.94% Cu). The massive sulphide was discovered by Exxon in the mid-1980's following drill testing a 1.2 mGal gravity and IP anomaly. Exxon drilled 9 wide-spaced drill holes at La Romana, including 6 drill holes 300-400m apart with intervals of massive sulphide and up to 160m stock work sulphide mineralisation, along with 3 drill holes that did not reach the target.
Pan Global recently completed an initial three drill holes for a total of 556.05m at the Escacena Project with the target being volcanogenic massive sulphide (VMS) associated mineralization. Drill holes (LRD-01 and LRD-02) tested a shallow IP target on the edge of the La Romana gravity target with drill hole (CHD-01) testing a shallow IP anomaly to the southeast and up-dip from the Cañada Honda gravity target. Downhole electromagnetic (DHEM) surveys were also completed in all three drill holes.
Highlights include:
Drill holes LRD-01 and LRD-02, approx. 360m apart, at the La Romana gravity target intersected shallow volcanic associated copper stock work, semi massive and massive sulphide.

LRD-02 returned 20.55m at 1.5% Cu eq (1.02% Cu, 0.11% Sn, 4.7 g/t Ag) including 14.9m at 1.97% Cu eq (1.34% Cu, 0.15% Sn, 5.9g/t Ag, 0.011 g/t Au) from 43.1m, including 7m at 3.43% Cu eq (2.50% Cu, 0.23% Sn, 10.1 g/t Ag, 0.014 g/t Au, 0.11% Zn, 133ppm Co).
LRD-01 returned 10.1m at 0.72% Cu eq (0.64% Cu, 2.2 g/t Ag) from 73.9m, including 1.6m at 1.38% Cu eq (1.26% Cu, 4.6 g/t Ag, 0.012 g/t Au) and 3m at 1.53% Cu eq (1.38% Cu, 4.5 g/t Ag, 0.05 g/t Au, 114 ppm Co); and a further 48.35m at 0.21% Cu eq (0.14% Cu, 2.2 g/t Ag) from 140m to end of hole, including 7.8m at 0.60% Cu eq (0.5% Cu, 2.7 g/t Ag) with this hole ending in 0.59% Cu eq (0.24% Cu, 0.10% Sn, 1.4 g/t Ag).

These drill results also indicate excellent potential to expand the La Romana zone with the Down-Hole EM (DHEM) in hole LRD-01 showing a 300 x 200m off-hole conductor plate anomaly, representing potential for a separate un-tested sulphide body, and the high grade copper intercept in hole LRD-02 coinciding with a 300 x 180m down-hole EM conductor plate anomaly and north-dipping IP target.
"I am very pleased and excited with these excellent first drill results at the Escacena project. The presence of appreciable tin in hole LRD-02 materially adds to the copper equivalent. Furthermore, the potential to significantly expand the mineralization is highlighted by a strong correlation between the highest copper grades and the gravity, IP and DHEM conductor anomalies. We now plan to extend the geophysics program in preparation for the next round of drilling."
Tim Moody, Pan Global President and CEO
Given the early success on the property, Pan Global, through its subsidiary Minera Sabina S.L., entered into a binding agreement to purchase all rights to the "Al Andalus" land package. The property covers an area approximately 3,367 hectares adjoining the Company's Escacena project. It is one of the most prospective areas of the Iberian Pyrite Belt for massive sulphide associated copper, zinc, silver and gold mineralization.
Conclusion
To close out the year the company raised some money through a private placement and are starting off the new year in good financial standings. With an expanded land package and promising targets to go after, we think Pan Global is a company that could make strides in 2020 given the results of their 2019 exploration efforts.
Upcoming Catalysts
Drilling results from the Torrubia North copper target
Results from their Geophysical work on the Escacena
Continued drilling at Escacena
Exploration work on the newly acquired AlAndalus property
For more information please visit https://www.panglobalresources.com/
VR Resources (TSX.V:VRR)
VR Resources is an emerging junior exploration company focused on greenfields opportunities in copper and gold. VR has been very active in Nevada over the last 4 years and is currently well financed for its exploration strategy in 2020. They are focused on underexplored, large-footprint copper and gold mineral systems in the Western United States and Canada and own a range of projects. For the purpose of this article we will focus on their main assets.
The Big Ten project
Located along the Northern margin of the of the Walker Lane belt in Nye County, West-Central Nevada and approximately 50 kilometres Northeast of Tonopah. The Company now owns seven properties along the 20 km length of the Big Ten mineral trend. The properties comprise 103 claims in total, covering 2,105 acres. Each property is a single, contiguous claim block. The individual properties include:
Hat Peak: 4 claims, 83 acres; large sericite/pyrite alteration halo; surface gold geochemistry; possible large-scale porphyry root.
Kano: 3 claims, 62 acres; distinct hyperspectral anomaly occurring on USGS mapped rhyolite intrusive; surface gold geochemistry.
Fisher: 4 claims, 83 acres; historic gold production in caldera-rim volcanic meg-breccia.
Amsel: 52 claims, 1075 acres; large airborne radiometric anomaly (potassium) 2×3 kms in size, with robust gold-silver-antimony-molybdenum soil anomaly covering the same area, a hilltop of silica-clay altered volcanic tuff with gold-bearing quartz veins; potential for a large tonnage epithermal gold system analogous to the 18 Moz Round Mtn. deposit where gold precipitation is focused below an alteration cap in a welded tuff.
Danbo: 21 claims, 434 acres; gold at surface in 3 quartz vein sets with 1.3 km strike.
Clipper: 17 claims, 328 acres; gold in multiple quartz vein sets across 1.5 km width.
Little Joe: 2 claims; 41 acres; southern extension of gold-bearing quartz veins at Danbo and Clipper properties
The Big Ten caldera is a Tertiary-aged volcanic complex some 20 kilometres in diameter, and located near the eastern limit of Tertiary-aged extension, volcanism, plutonism and faulting which define the Walker Lane Belt in west-central Nevada. The project is host to areas similar to The Round Mountain (18 M oz gold) and Manhattan (800,000 oz gold) epithermal gold deposits which occur in similarly aged rhyolite caldera centers. The low-sulfidation character of the hydrothermal gold-silver quartz veins at Big Ten is also similar to that of Round Mountains.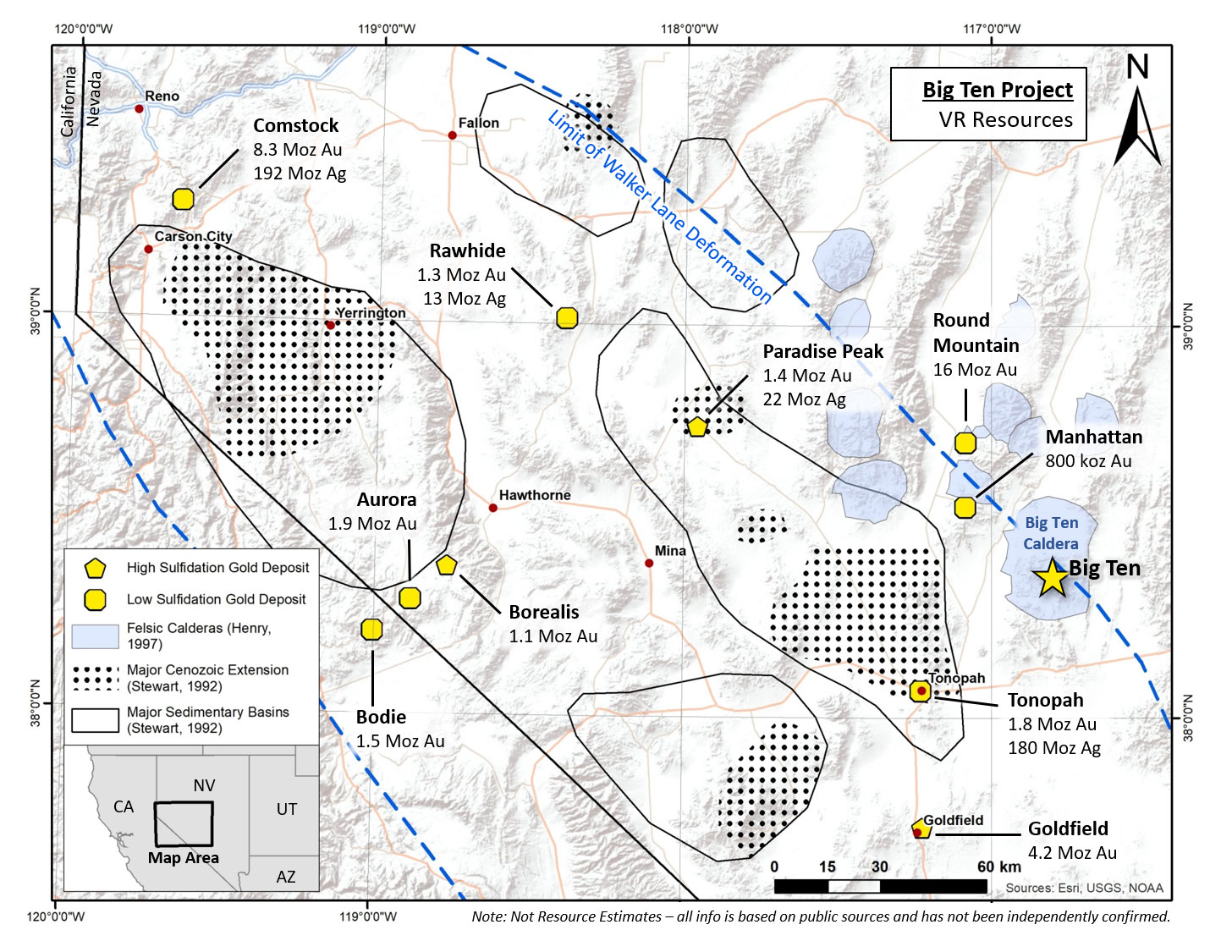 By November the company had completed its groundwork on the properties and were ready to do an IP survey designed to identify where sulfide-bearing quartz veins are concentrated within the large potassium-silica alteration cap and gold geochemical anomaly covering the Amsel hilltop. The 2019 exploration campaign consisted of…
Outcrop-scale, grid-based geological mapping and sampling of quartz veins and fractures – 57 samples for geochemistry; – 7 samples for plain light and reflected light petrography; – 2 samples for geochronology.
Grid-based soil geochemistry for gold, silver and epithermal trace element indicators: 165 samples from 100 metre-spaced stations on 10 lines covering the 1.8 x 2.2 km are centered on the airborne potassium anomaly and coincident silicified hill top;
Alteration mineral mapping by SWIR mineral reflectance on individual rock samples from 135 stations from the soil grid, by TerraCore based in Reno, Nevada.
The IP survey was completed in December and it identified a large and integrated IP and resistivity anomaly within the silica-adularia alteration cap and a gold-silver geochemical anomaly.
"Surface programs completed this summer and fall have advanced the Amsel target considerably, establishing a robust, multi-element geochemical enrichment in precious metals, trace element epithermal indicators and high temperature base metal indicators across the entire alteration cap. Based on the size, clarity and intensity of the IP anomaly, VR will now move forward with the permitting process we started earlier in the year for first-pass drilling on the Big Ten project, and we look forward to providing further updates as our work proceeds in 2020."
Dr. Michael H. Gunning CEO of VR Resources
Ranoke project
The Ranoke property is in the Moose River basin in Northern Ontario, Canada. It is located between the Mattagami and Missinaibi rivers. The nearest town is Moosonee which is located some 100 kilometres to the Northeast on James Bay. Kapuskasing is located about the same distance to the Southwest, on the Trans-Canada Highway. This copper-gold project consists of 345 claims in one contiguous block covering 7,072 ha in an area 12 x 12 kilometres in size.
The area has been explored in the past, going back 100 years, for everything from coal and diamonds to VMS and precious metals. Originally the region had several drill holes popped into the ground in the 30's and again in the 50's, but it wasnt until the 80's when Ontario Energy Corporation re-visited the potential of coal deposits. Hundreds of shallow drill holes were completed on a lease which exceeded 1 million acres. However, no drill holes were completed on VR's current Ranoke copper-gold property claims.
A robust copper-gold-fluorite heavy mineral anomaly was evident in several rivers in the Coral Rapids area and based on a regional alluvium survey completed by the Ontario Geological Survey in 2001 and 2002. The unique mineral assemblage underscored the potential for a buried carbonatite or IOCG deposit (iron oxide copper-gold) as the source of the geochemical anomaly, hence the interest by the company to explore this area. The company went straight to work and between May and November they gathered enough data to formulate a proper drilling plan.
Airborne gravimeter and magnetic gradiometry survey over a 13 x 14 km area with 200 metre line spacing for 1,200 line-kilometres in total, including tie lines.
Four soil geochemistry test lines across four different parts of the Ranoke magnetic complex, using a soil gas sampling and technology best-suited for the hydrogeology and surficial geology of the area. There were 128 stations in all, spaced 100 metres apart. Three different data streams were collected and analyzed: organic compounds, sulfur compounds and vapour phase multi-elements.
Three geophysical test lines of ground-based induced-polarization (IP) using the TITAN 24 DCIP system were completed to test the main gravity anomaly for the presence of chargeable sulfide minerals.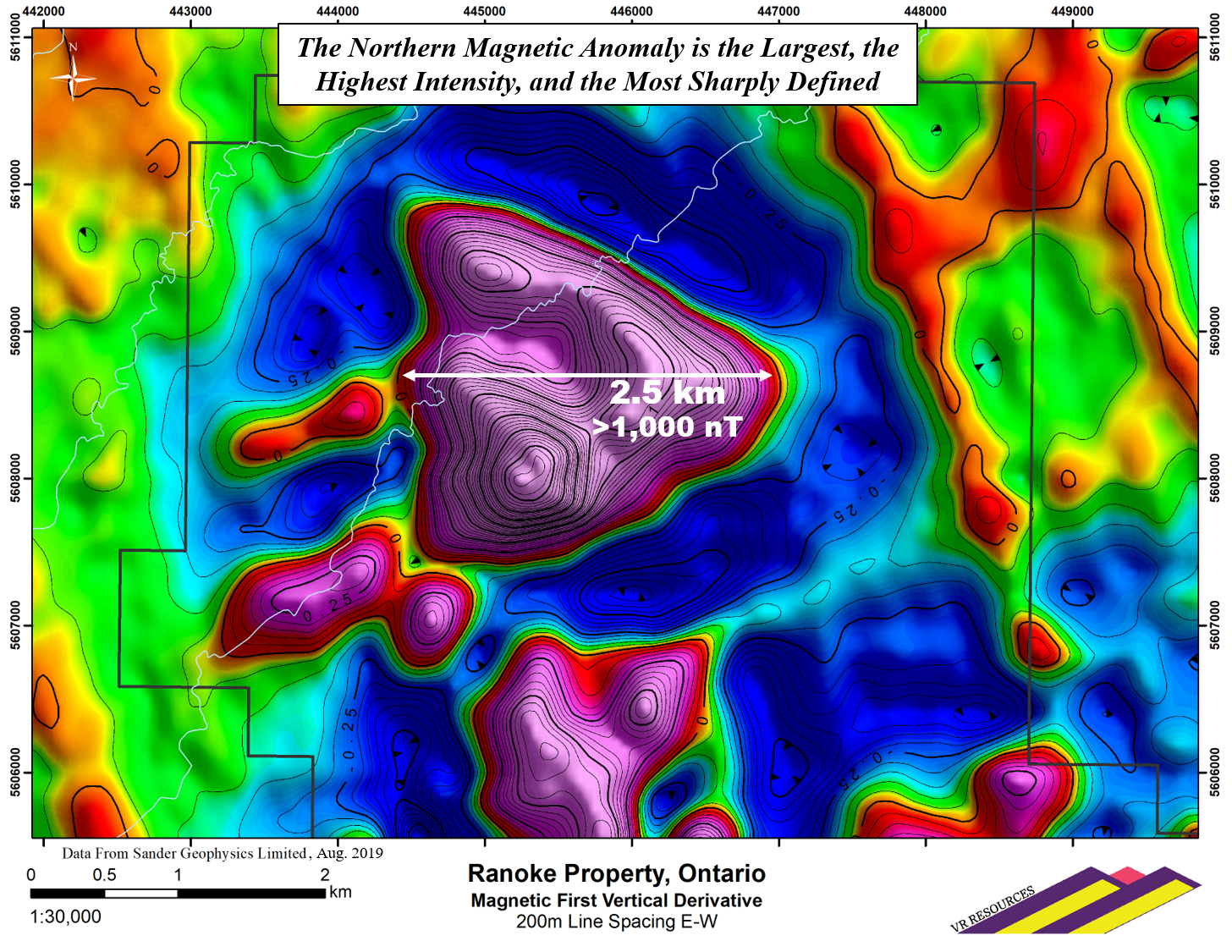 The company also ran gas and soil testing and the results were clear that there is a large, multi-faceted anomaly over the Northern magnetic pipe that is unique to the entire 12 km magnetic complex at Ranoke. Encouraged by the results from this years work, the company selected eleven drill sites to test a variety of different targets based on the magnetic and IP chargeability attributes some 4 km across in the Northern part of the Ranoke magnetic complex. Three drill holes were prioritized for a first pass which are going to begin in January as the days get longer.
Conclusion
We are very keen on Nevada exploration play due to the rich history of mining and the complex geology driving the mineralization within the Walker Lane Trend. After seeing this landscape and how they mined in the 1800's I can assure you, they left a lot behind and modern day exploration tools are unlocking the full potential of some of these areas which have been long since abandoned in the state of Nevada. Furthermore, new discoveries are always a big plus for junior miners and if in fact they have a successful drilling campaign on their Ranoke project, it could make for a breakout year for VR Resources.
Upcoming Catalysts
Drill permits at The Big Ten Property
Maiden Drilling campaigns on both properties
Gatling Exploration Inc. (TSX.V:GTR)
Gatling Exploration is a Canadian gold exploration company focused on advancing the Larder Project, located in the prolific Abitibi greenstone belt in Northern Ontario. The Larder property hosts three high-grade gold deposits along the Cadillac-Larder Lake Break, 35 km East of Kirkland Lake. The project is 100% controlled by Gatling and covers an area of 3,370-hectares, positioned 7 km west of the Kerr Addison Mine, which produced 11 million ounces of gold over the life of the mine.
Gatling started 2019 by appointing Nav Dhaliwal as President and Chief Executive Officer of the Company and Nathan Tribble, former senior principal geologist for Sprott Mining, has been appointed Vice President of Exploration of the Company. In addition, Dale Ginn was appointed Chief Operating Officer and resigned as a director. The thinking behind the changes was to allow the geologists to focus on the exploration, acquisition and the technical aspects of the Company, while also providing better overall board structure, independence and experience.
In March the company announced a 10,000m drilling program at the Larder project but would eventually see that become 35,000m before the end of the year. The drilling was aimed to expand known mineralization envelopes and to test new targets on the property.
Expansion Targets. Phase I will target expansion of the Bear Lake deposit, down plunge and along strike to the east, where previous exploration by Bear Lake Gold Ltd. intersected 22.5 g/t Au over 7.9 m (Target A).
Near-Surface Targets. Phase II will target near-surface gold mineralization at the Cheminis and Fernland deposits (Target B and C in Figure 2) and explore down plunge extension of the Fernland deposit.
Highly-Prospective Gold Belt. Both phases are designed to intersect the litho-structural belt known as the Cadillac-Larder Break, where more than 70 million oz of gold has been produced.
Not long after starting to drill the property, Gatling made a deal with Teck Resources Limited to acquire their option to acquire the 1,274 Ha Kir Vit claim package. The acquisition increased Gatling's contiguous land position to a 3,370 ha Property, which hosts several near-surface drill-ready target areas that trend onto proven zones such as Agnico Eagle's Upper Beaver deposit. The Kir Vit property is underlain by the Nettie Lake Gold Trend, a possible splay off the Cadillac-Larder Lake break and is prospective for intrusion-related gold mineralization
Due to the consistent success of their drilling campaign, Gatling increased its drill program from 10,000 meters to 35,000 meters in 2019 and established continuity over 2.5 kilometers of strike length by connecting the Cheminis and Bear deposits. Gatling now considers the Fernland, Cheminis and Bear deposits to be part of one, large mineralized system with a strike length of 4.5 kilometers. Results are pending for 5,000 meters of drilling which should be released early in 2020 and the company plans to continue an aggressive drilling campaign into the New Year, in hopes of extending the known deposit even further.
2019 Drill Hole Highlights.
20.7 g/t Au over 6.1 meters in hole GTR-19-003
10.8 g/t Au over 8.0 meters in hole GTR-19-004
12.7 g/t Au over 5.0 meters in hole GTR-19-005W.
The company also completed a Lidar survey that highlighted previously unrecognized structural trends on the property and results of the survey are currently being further analyzed with geophysics to identify new targets to drill test in 2020. This analysis will help to generate targets in underexplored zones of the Cadillac-Larder Lake Break, such as the Swansea zone which lies 4 kilometers to the west.
"Our understanding of the gold system hosted by the prolific Cadillac-Larder Break has grown exponentially. This new knowledge has already proved to be of great value and has not only led to our acquisition of additional land but has helped us identify new structural trends for drill testing in 2020."
Dale Ginn, COO of Gatlin Resources
Conclusion
Gatling recently added a third drill to the project to focus on expanding mineralization at Fernland, where over 20,000 meters have been drilled historically and drill results include 22.2 g/t Au over 1.8 meters in FL-98-5 and 7.6 g/t Au over 1.8 meters in FL-99-40. Gatling considers the Fernland, Cheminis and Bear deposits to be part of one, large mineralized system with a strike length of 4.5 kilometers. Multiple drill holes from the ongoing 35,000 meter drill program have now established continuity over 2.5 kilometers of strike length by connecting the Cheminis and Bear deposits. Drilling will continue to test the continuity of mineralization over 4.5 kilometers using a minimum of three drills. GTR is well on its way to proving out its theory and we suspect it will move quickly with such a low float, if they come back with conformation of their theory.
Upcoming Catalysts
Extension of the drilling campaign
Connection of the 3 defined ore bodies
Exploration of the Kir Vit zone
VRIFY 360 interactive tour
For more information please visit https://www.gatlingexploration.com/
Minera Alamos Ic. (TSX.V:MAI)
Minera Alamos Operates in Mexico, which is the largest producer of silver in the world and a top global producer of gold, copper and zinc amongst other important metals and minerals. With its 500-year mining history, stable government and attractive mining investment environment, Mexico ranks globally as one of the most favoured mining and exploration jurisdictions. Despite its extensive mining history, Mexico's mineral potential remains very strong with multiple, productive metallogenic belts and a considerable portion of the country still deemed underexplored.
Minera is an advanced-stage exploration and development company with a growing portfolio of high-quality Mexican assets. Looking to becoming a producer in 2020 the company's main focuses are The La Fortuna open pit gold project in Durango and the Santana open pit heap-leach development project in Sonora. With permits in hand Minera is ready to put their Santana open pit project into production by mid 2020 and have been aggressively exploring and uncovering new areas
The Santana project
Located in Sonora State, Mexico, Minera is 100% percent owner of the 8,500 hectares property which is accessible by paved highway. It is strategically positioned in a rich mining district that features operational mines from some of the world's leading names in precious metals mining (Goldcorp, Agnico Eagle, Alamos Gold). This is a low CAPEX open pit heap-leach development project with test mining, processing and permitting completed. The hope is that there is near term potential for this project to become a viable open pit mining operation. The company has identified several new areas of mineralization through last year's exploration efforts, which will be followed up on in 2020.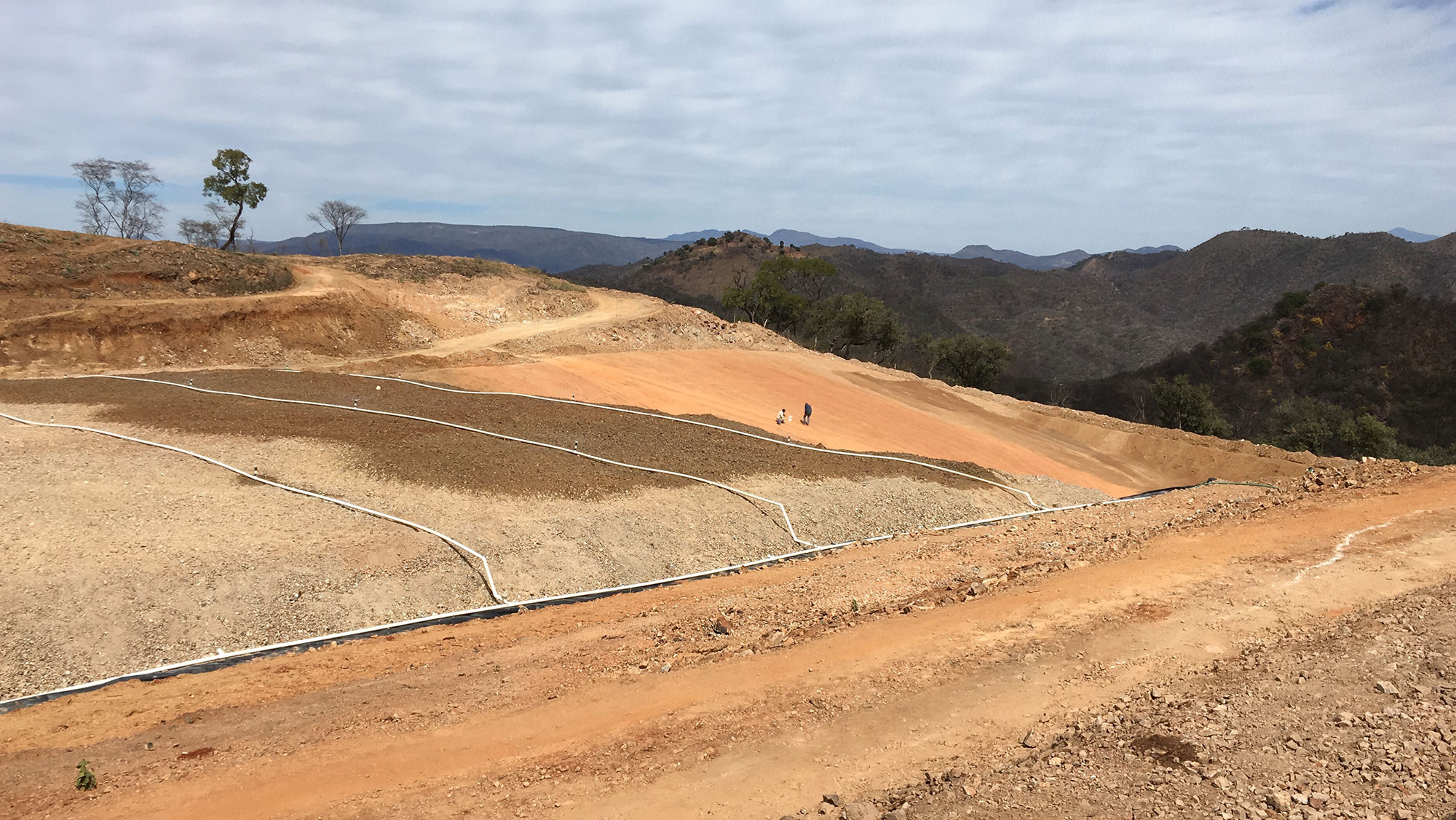 "The Company is currently well positioned to initiate construction activities late this year with first gold production planned mid-2020. In addition, as our geological knowledge of the Santana project area has expanded dramatically over the last year, we are excited to advance our exploration efforts and to demonstrate the full resource potential of the area as we move forward with the proposed mine development."
Darren Koningen, CEO of Minera Alamos
The scope of the Operating Permit includes the two initial open pit mines, waste dump areas, crushing, heap leach pad, leach solution ponds, gold recovery facilities and all related infrastructure. MAI remains in good standing for a period of 33 years which covers the potential construction, operations and closure stages for the project. The receipt of the permit for Santana will allow the Company to initiate applications for other state/local permits that will be required in advance of any commercial mine production. These lesser permits cover activities such as water use and explosives. In addition, the Company can now proceed to finalize discussions with potential contractors related to mining, crushing, construction, etc
La Fortuna project
Located in Durango State, Mexico, Minera Alamos acquired 100% of the 4 mining concessions that comprise the La Fortuna project in May 2016 from Argonaut Gold Inc. Minera received a positive notification from the Mexican environmental authorities confirming the successful completion of the technical review phase of the Company's application for the change of land use to construct mining and processing facilities at the Fortuna project area and plan to move forward on the project in 2020.
Multiple zones of Fortuna-style mineralization have been identified on the project, some of which have alteration zones significantly greater in scale than present at La Fortuna. No systematic exploration has been conducted on the property since 2008-09 and Minera is looking to expand this project. The identification of a new area called La Pista is approximately 1300m Southwest of the Company's La Fortuna Main Zone. Rock sampling surrounding the new target zone has returned assays up to 8 g/t Au and 30 g/t Ag over a mineralized area of approximately 500m x 300m. Plans were completed to include testing of the new area in addition to other known areas of historical mining as part of the Company's Fortuna exploration plans for 2019.
Guadalupe de Los Reyes project
Located in Sinaloa State, the property covers 15,575 hectares of land in an area which is enclosed by an east-southeast trending mineralized structure that extends over 2.5 km and is up to 100 m in width. It is composed of two main veins, Guadalupe and San Manuel, with stock work and numerous quartz veinlets in between. The Guadalupe Mine zone was developed by underground methods to a depth of about 400 m and along a strike length of approximately 1000m. Historic recorded production for the mine was estimated at 875,000t, comprising over 70% of the district's recorded gold production.
Nine target areas have been identified along nine structural vein zones. Some of these targets have bulk tonnage potential, which may be amenable to open pit mining, such as El Zapote, San Miguel, Guadalupe Mine (Laija and West), Tahonitas, Noche Buena, and El Orito zones. The El Zapote zone has received the most extensive exploration to date.
Conclusion
2019 was a very positive year for Minera in that they were able to get the required permitting for the Santana project, expand the resource by identifying new mineable areas and they worked out a financing agreement with Osisko Royalties for a total of C$14 million dollars combined equity and royalty financing package. This will provide financing to advance the Company's plans to commence construction of its planned Santana gold mine in Sonora, Mexico and continue to explore prospective areas on all of their projects.
Upcoming Catalysts
Announcement on the commencement of construction
filing of a 43-101 on the Santana project
Drilling campaign announcement after the rainy season
Additional permitting
Exploration efforts across all their projects
For more information please visit https://mineraalamos.com/
Nighthawk Gold Corp (TSX:NHK)
Nighthawk Gold Corp. is a Canadian-based gold exploration company with a district scale land position (222,203 acres or 900 km2), within the Indin Lake Greenstone Belt, located approximately 200 km north of Yellowknife, Northwest Territories. Nighthawk is focused on advancing the Colomac Gold Project with a recently updated inferred resource of 2.6 million ounces of gold 50.3 million tonnes at an average grade of 1.62 gpt Au. They are also advancing its other regional gold deposits and showings on its Indin Lake Gold Property, within a highly prospective and underexplored Archean gold camp.
2019 was a very busy year for the company as they aggressively drilled the property in an attempt to expand the footprint and of their deposit. Given that the exploration season is short in the Northwest Territories, Nighthawk has to be diligent about the exploration they do. Here are the results from their 2019 exploration program.
Zone 1.5
Hole C19-35 tested an area to depth immediately north of the boundary between high-grade Zone 1.5 and Zone 2.0 and intersected 124.50 metres of 1.12 gpt Au (70 metres true width), including 13.50 metres of 3.60 gpt Au, and including 4.75 metres of 7.64 gpt Au, extending mineralization on this section to 530 metres depth where it remains open.
Zone 2.0
Drilling on this section has shown that the widening of the sill is not an isolated feature, but rather that the entire Zone 1.5 – Zone 2.0 mineralized panel is wedge shaped and widens significantly to depth. Currently with a strike of 500 metres with its narrowest width of 30 metres at shallow depths but expanding to upwards of 150 metres at 800 metres vertical depth where it remains open. Hole C19-39b intersected 110.50 metres of 1.89 gpt Au, including 57.00 metres of 2.37 gpt Au, and including 6.40 metres of 5.16 gpt Au, within a larger 205 metre intersect of near continuous downhole mineralization, spanning a true width in excess of 110 metres at a vertical depth of 700 metres.
Zone 3.0
Holes C19-32 and C19-32B were drilled 110 metres northwest of C19-31 to explore an area in the sill to shallow depth that had never been drilled (Figure 1). C19-32 intersected mineralization at less than 200 metres from surface returning 16.45 metres of 1.39 gpt Au, including 10.00 metres of 1.62 gpt Au, and including 3.40 metres of 2.55 gpt Au. Hole C19-32B was successful in extending mineralization an additional 130 metres to depth where it remains open.
Hole C19-36 was spotted 150 metres north of the C19-32 holes to explore an area that had never been drilled (Figure 1). It intersected sporadic grade over its length including 1.0 metres of 16.20 gpt Au; 12.65 metres of 1.04 gpt Au, including 3.00 metres of 2.55 gpt Au; 6.00 metres of 3.07 gpt Au, including 3.00 metres of 4.91 gpt Au, and including 1.50 metres of 6.57 gpt Au; and 0.50 metres of 11.80 gpt Au. A 250-metre-long gap in drilling exists north of hole C19-36 where historical holes only tested the sill to less than 100 m depth. This 250-metre-long gap contains several near-surface historical higher-grade intercepts that will be further investigated during the Company's 2020 exploration program.
Zone 3.5
Hole C19-38B intersected gold mineralization hosted with quartz veins within the lower gabbro phase including 9.00 metres of 1.94 gpt Au including 5.25 metres of 3.04 gpt Au, and 6.00 metres of 3.24 gpt Au including 3.00 metres of 6.24 gpt Au. This is the first documented occurrence of this type of mineralization below the quartz diorite upper portion of the sill and represents a new style of Colomac mineralization that will be followed up on in Nighthawks 2020 drill program.
"We recently concluded our 2019 drill program on our Indin Lake Gold Property, completing 110 holes for 40,834 metres and significantly exceeding last year's record of 32,500 metres, making it our most productive and efficient drill season to-date. We have now released results for 55 holes or 19,429 metres, leaving considerable news flow going forward. Over the past three years we have been fortunate to have the resources to aggressively expand our exploration activities and build on our regional gold camp strategy of discovering and evolving near-surface gold deposits within our emerging gold camp. Treasure Island is fundamental to this approach."
Dr. Michael Byron, President and CEO
Due to the fact that the project is in a very remote region with little to no access, aside from an airstrip and a road that is currently being built, a large amount of CAPEX will be needed to see this project turn into a mine or they will need around a 5-6 million ounces resource before attracting serious attention from any majors. Another thing that should be noted is that there are no royalties on the property which should bode well for them when they are ready to negotiate.
Conclusion
Comparisons have been made by the company to the Kalgoorlie region of Western Australia, and if in fact this deposit turns out to be even half of that there is an opportunity here to make some good money. This will take time to prove out as the exploration season is shorter than most given its location, but is definitely one to keep your eye on especially in a rising gold environment where majors are looking for economic assets.
Upcoming Catalysts
Updated resource
Plans for this year's exploration and drilling campaign
Further extension of the deposit at depth
For more information please visit https://www.nighthawkgold.com
Cobalt Canada Works (TSX.V:CCW)
Canada Cobalt has 100% ownership of the Castle mine and the 78 sq. km Castle Property in the past producing, Gowganda, high-grade Silver Camp of Northern Ontario. With underground access at the Castle mine, a pilot plant to produce cobalt-rich gravity concentrates on site, and a proprietary hydrometallurgical process known as Re-2OX (for the creation of technical grade cobalt sulphate as well as nickel-manganese-cobalt (NMC) formulations), Canada Cobalt is strategically positioned to become a vertically integrated North American leader in cobalt extraction and recovery.
It's been a transformational period for Canada Cobalt, setting up 2020 to be a great year. In early 2019, the company ramped up their exploration efforts at the Castle Mine and not long after saw the rewards when they hit Bonanza grade silver near surface in a previously undefined area. Simultaneously, they began processing their own tailings from the mine and doubled the size of the property to 78 sq kms. They also filed for patents on the Re-20x mettalurgical process and signed their first revenue streaming deal with Global Energy Metals, based in Nevada.
Metallurgical testing came back with great results from SGS testing on the old tailings from Castle Mine and the pilot plant has been completed at the castle mine. Furthermore, approval was granted by regulators for the use of the Re-20x to be used in Nevada as part of their deal with Global Energy Metals. All this was very exciting for the company and its shareholders, but it gets better! After raising around 2 million dollars the company signed a binding Letter of Intent to acquire the assets of PolyMet Resources Inc. in Cobalt, Ontario.
Polymet is 23,400 sq. foot facility which can host the Company's proprietary Re-2OX Process for environmentally friendly extraction of cobalt. The processing facility which will become the new headquarters of Canada Cobalt is a well-established sampling and analytical facility, specializing in high-grade mineralization. Polymet provides commercial assaying, crushing, screening, grinding, bulk sampling, upgrading and smelting services all in one location. The facility has demonstrated that it can pour up to 10 dore silver bars of 1,000 ounces each (90% to 95% fine) in an 8-hour shift and is perfectly suited for Cobalt Canada's needs.
"This deal builds dramatically on Canada Cobalt's current competitive advantages and opportunities – technological, on the ground and underground – in a rejuvenated silver-cobalt district recognized as the birthplace of Canadian hard rock mining. With such a unique and fully operational facility in the town of Cobalt, so close to the Castle mine and other properties, Canada Cobalt achieves a key goal of becoming a vertically integrated leader in Canada's silver-cobalt heartland while it also exploits a powerful new cycle in precious metals."
Frank Basa, President and CEO of Canada Cobalt
Not long after their acquisition the company, using the pilot plant at the Castle mine, separated leaf silver and created silver gravity concentrate from mineralized Castle waste material. The concentrate and leaf silver were then shipped to Polymet where they smelted the concentrate in the bullion furnace to produce three silver bars totaling 300 ounces. After successful trials the company raised another 1.4 million dollars and brought Matt Halliday on board as VP of Exploration.
With everything moving forward the company shifted its focus back to exploration and announced follow up drilling at Castle East which would be the first-ever follow-up on the "Robinson Zone" high-grade discovery, a drill hole in 2011 that cut 1,194 oz/ton silver (40,944 g/t) over 0.45 meters within a broader core length of 3.1 meters grading 189 oz/ton (6,476 g/t) silver. The company used a custom-built borehole inspection camera to successfully reach the 2011 drill hole intersection of spectacular native silver at a vertical depth of approximately 420 meters. They were able to confirm the presence of high grade silver and immediately formulated a drilling plan.
On December 12th the stock was halted on news that they intersected massive native silver mineralization over a wider vein width up-dip from drill hole CA-11-08 and would be sending out the assays immediately. Then again on December 23rd they halted the stock and released the news that hole CS-19-08-WO1 hit 50,583.29 g/t silver (1,476oz/ton) from a 0.60-meter sample in addition to cobalt, nickel and copper, and a second interval of 20,741 g/t silver (605 oz/ton) over 1.5 meters. Talk about an early Christmas present!
Conclusion
Canada Cobalt is set to continue drilling on the Castle mine property in the first week of January and is well positioned to expand the footprint of the deposit. Castle mine clearly has some more fruit to bare and we look forward to seeing how this story develops. We should see the finalization of the deal for Polymet within a reasonable time frame and shareholders will be the rewarded by the integration of the 2 operations. 2020 is set to be very exciting for Canada Cobalt as they drive closer to becoming a fully integrated silver and cobalt producer geared towards the electric vehicle market.
Upcoming Catalysts
Assays
Continued drilling
Expansion of the mineralized footprint
Finalization of the acquisition of Polymet Labs
Re-20x application update from Global Energy Metals
Additional revenue stream contracts to use their tech
For more information please visit https://www.canadacobaltworks.com/
Compass Gold Corp. (TSX.V:CVB)
Compass Gold is a Canadian based exploration company focused on their Sikasso property in Mali. The property is made up of three sites in with a combined land holding of 867 km2 and is located in the same region as several multi-million-ounce gold projects such as Morila (7.5 Moz); Syama (6.7 Moz); Kalana (3.1 Moz); Kodieran (2.0 Moz). This area has become an attractive location in recent years as it is a very mining friendly jurisdiction with high upside potential. Companies like AngloGold Ashanti, B2 Gold, Barrick and IAMGOLD have all been very active in this region of the world and all are having great success.
Interestingly, the team is comprised of 2 founders of IAMGOLD and the former Pesident and CEO, in Joe Conway, Larry Phillips and Bill Pugliese. These gentlemen are a large reason why IAMGOLD is what it is today and it's no accident they are back in this region looking for another project to put into production. They also have an experienced exploration team lead by Dr. Madani Diallo, who is responsible for multiple gold discoveries in Mali. Don't be surprised if they repeat history and put Compass Gold on the map, so to speak…
Sikasso property, Farabouka Trend
The Farabakoura Trend includes the Farabakoura and Kabangoué artisanal workings and the high-priority Boumban prospect, on its Sikasso Property in Southern Mali. In 2019 the company was able to drill 6,610 m of reverse circulation and 1,196 m diamond core drilling at Farabakoura and Kabangoue between December 2018 and July 2019 before the rainy season shut them down. The campaign was very successful and even hit Bonanza grades to the tune of 20.69 g/t Au over 18 meters and 65.58 g/t Au over 6.1 meters respectively.
The rainy season ended early this year allowing the company to start executing their 10,500m drilling campaign early. By December 16th, they were able to drill 16 holes testing three target structures for a total of 2,404 m. They have since sent out samples from each hole and expect the results early in the new year. The aim of this drilling campaign is to test seventeen exploration targets along the Farabakoura Trend, a 15-km long and 2-km wide zone of anomalous gold in shallow soil samples, and abundant artisanal gold workings adjacent to the Siekorole Shear Zone.
"It is exciting to be able to return to drilling some of the numerous targets we have identified over the past two years. Our team is off to a good start with the drilling and the Capital Drilling team has maintained a healthy pace of one hole per day, demonstrating the importance of having an experienced team with quality equipment. We also welcome SEMAFO's technical team, which has provided useful input in the positioning of the first drill lines."
Dr. Madani Diallo, Compass's Exploration Manager
Conclusion
The company raised enough capital this year in two private placements, which were each closed and oversubscribed within 48hrs. This speaks volumes to the confidence in this management group to execute and bring yet another big project into production. Given their track record of success, it's hard to ignore the possibility of this being a big winner considering the early drilling results showing the presence of bonanza grade gold and continuity. With another 8,000 meters of drilling left in this campaign, we will be watching closely to see what the definition drilling looks like early in 2020, but so far this project looks really good and Management is top notch.
Upcoming Catalysts
Assays from 16 holes drilled in 2019
8,000 m of additional drilling
Continuity of gold deposits
Additional exploration announcements
For more information please visit http://compassgoldcorp.com/
Nevada Copper Corp (TSX.V:NCU)
Nevada Copper is a Canadian based, US copper producer and the owner of the Pumpkin Hollow operation. The property is located in the mining friendly jurisdiction of Yerrington, Nevada and has the full support of the local community which has superb infrastructure and a skilled workforce. The project's substantial reserves and resources include copper, gold and silver and there is clear potential for deposit expansion and greenfield exploration. The processing plant is now producing copper concentrate from their underground operation and they are advancing their open pit mine into feasibility in 2020. Once in full production, the mine will have plenty of supply to feed their processing plant for many years to come.
2019 was a very successful year for Nevada Copper whereby the company put their plans into action. They have successfully completed their processing plant, secured financing and put their underground operation into production. They also announced plans to do a feasibility study on their open pit operation in hopes of being ready to mine the pit in 2020. They also acquired more land and exploration efforts expanded the footprint of both the underground and open pit operations.
Underground operations
The Pumpkin Hollow underground operation holds a robust 23.9 Mst @ 1.74% Cu eq. and 1.98% Cu eq. with potential to expand the project beyond the 13.5 year projected mine life. One of the major benefits to the underground workings at Pumpkin hollow is the credits they will receive for gold and silver production. Through the first 5 years they will produce 9,000 ounces of gold and 173,000 ounces of silver per year and 8,000 ounces of gold and 150,000 ounces of silver in the years to follow.
The company focused on prepping the underground operation over the course of the year and in the fourth quarter successfully put the underground operation into production. With an annual operating cash flow of 80 million per year for the first five years, the underground working will be self sufficient and allow the company some breathing room from financing this year.
Open Pit Operations
The Pumpkin Hollow open pit development is approximate 4 km west of the underground mine. It includes two large deposits and areas of potential expansion both in and outside of the projected pit walls. The recent pre-feasibility study has highlighted the potential for improved economics, simplified build and phased expansion.
The open pit has several areas of possible expansion that were excluded from the current resource model. There is also the demonstrated potential to test the full extent of deposit at depth and in areas within and outside of the current pit shell. Nevada Copper is currently advancing the open pit to feasibility stage, with the goal of making a construction decision thereafter.
Exploration
Much of Pumpkin Hollow has seen little-to-no exploration activity and while advancing the underground mine and open pit developments remain the company's core focus, they have also commenced exploration in key areas of the property. Following investigation of surrounding land in April 2019, Nevada Copper expanded its land position by 32% with the staking of 5,700 acres of Federal Land to the northwest of its prior land position. Known as the Tedeboy Area, it contains porphyry-style alteration and copper oxide mineralization at surface with multiple zones of copper mineralization sampled in outcrops and trenches.
Exploration highlights of 2019
Significant expansion and consolidation of strong land position in re-emerging copper camp: Increased land holdings by over 30%, adding over 5,700 hectares to Nevada Copper's strong land position;
Identification of multiple new copper targets: Multiple targets have been identified across Company's land holdings, including surface and near surface copper samples and drill hole intersections;
Indicators of porphyry potential in previously untested areas: Initial reconnaissance drilling intended to provide information on structural geology has intercepted significant copper grades with porphyritic signatures. Drilling has occurred within 2km from current underground mine. The porphyry system signatures are important, as the existing underground and open pit deposits are skarn/IOCG-style1 deposits, the source of which is expected to be an undiscovered porphyry system; and
Ongoing systematic brownfield exploration plan advancing: Recently completed aero-mag survey and surface reconnaissance continues to direct activities for coming months in order to further advance high-potential targets from this work as well as broader understanding of the geophysical results from known deposits across Nevada Copper's large land package.
"Having transitioned to producer status our primary focus in the first half of 2020 will be ramping up to full commercial production, however, we will also continue advancing our regional growth strategy. Exploration results to-date have been extremely encouraging, with multiple new targets identified across our large property, and we have increased our land position significantly. Although our exploration program is at an early stage, we are very encouraged to have hit mineralization with porphyritic signatures in multiple holes."
Matt Gili, Chief Executive Officer of Nevada Copper
Conclusion
The one thing that should be noted is that Nevada has a very large float of 761 million shares and should caution readers that when float get this high there is always a chance for a reverse split. However in this case, Nevada Copper has become a producer and may very well opt to create shareholder value by doing share buy backs. Neither scenarios have been talked about much but we thought it was important to note. Having said that, if you have the stomach to look beyond the float, there is a ton of upside to this company and we expect it to become a major operator in Nevada.
Upcoming Catalysts
Feasibility study
Continued Exploration
Update on underground operations
Drilling results
For more information please visit https://nevadacopper.com/
Insidexploration conclusion
In closing, we believe that this year may be unlike any we have seen for the last decade. In a rising gold environment with economic instability, the junior market could be setting up for the perfect storm in 2020. Gold is cyclical and given that we have been in a bear market for the last several years, we believe that now is the time to identify opportunities in the mining sector and capitalize on them. While there are several majors and mid-teir miners that will flourish in a bull market, we like to focus on the junior miners, great discoveries and established juniors moving into a producer's role. We hope you enjoyed this article and would like to wish you all a Happy New filled with prosperous investing.
Follow us on…
Twitter @insidexplr
Facebook @ insidexploration
Social media handle @Mikeymike426
Disclosures
We currently hold positions in several of the aforementioned companies and may buy or sell at any given time without notice.
This article features several sponsors of Insidexploratation but the thoughts and opinions of the author is their own and do not represent the companies thoughts and opinions.
Disclaimer
Insidexploration has prepared this document for general information purposes only. This document should not be considered a solicitation to purchase or sell securities or a recommendation to buy or sell securities. The information provided has been derived from sources believed to be accurate, but cannot be guaranteed. This document does not take into account the particular investment objectives, financial situations, or needs of individual recipients and other issues (e.g. prohibitions to investments due to law, jurisdiction issues, etc.) which may exist for certain persons. Always do your own due diligence and consult a licensed investment adviser prior to making any investment decisions. Junior resource companies can easily lose 100% of their value so always reference www.SEDAR.com for important risk disclosures.