Kirkland Lake, Ontario–(Newsfile Corp. – February 10, 2020) – RJK Explorations Ltd. (TSXV: RJX.A) (OTC: RJKAF) is pleased to announce that the Company has entered into a third option agreement with Power Group Projects Corp., (PGPC) for certain claims comprising some 640 hectares located in Gillies Limit Township approximately 11 kilometers south of Cobalt, Ontario.
RJK has identified four geophysical targets of interest within this claim group, located west and adjoining the Kon claim group where the company has made a new kimberlite discovery. Please see news release of February 05, 2020 for the discovery details.
RJK holds a dominant land position land position in the Cobalt camp through staking and option agreements with prospectors and junior companies consisting of approximately 17,000 hectares.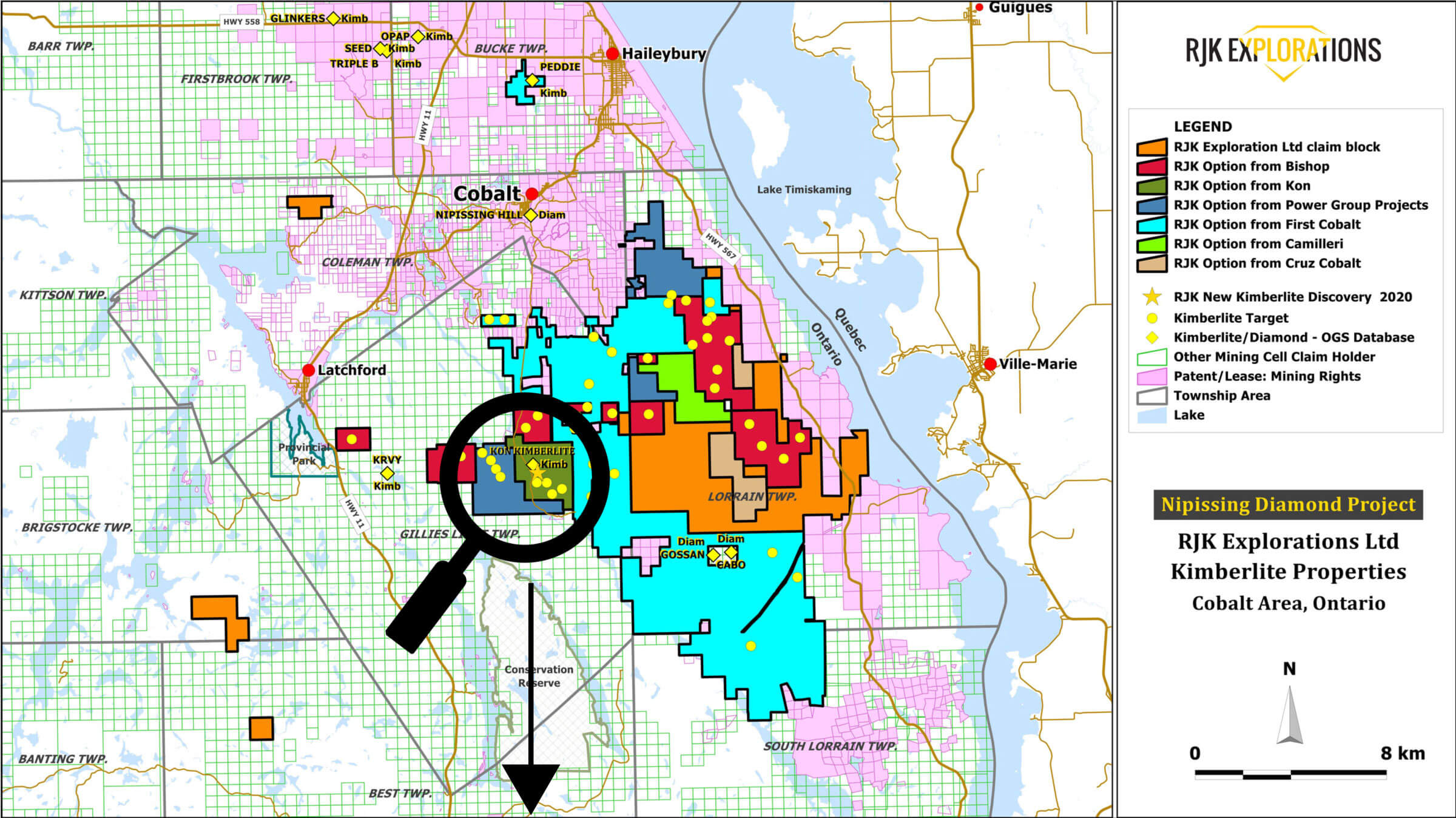 Under the terms of the agreement, RJK Explorations Ltd will pay a fee of $12,000 cash per year for a period of three years for a total of $36,000 to PGPC to enter into an arrangement whereby RJK Explorations Ltd., will have the right to identify, sample and drill test with one diamond drill hole any identified potential Kimberlite targets within PGPC land position. The balance of the PGPC terms in the agreement are the same as outlined in the November 11, 2019 option agreement news release by RJK.
Contact Information
Glenn Kasner, President
Mobile: (705) 568-7567
info@rjkexplorations.com
Web Site: https://www.rjkexplorations.com/
Company Information: Tel: (705) 568-7445
For More information please visit https://insidexploration.com/ and search RJK Exploration in the search bar.
Insidexploration notes
If you are new to this story we encourage you to take the time to watch the Tony Bishop video to help understand what led to the acquisition of these land claims and the discovery of new kimberlite in the Cobalt mining camp.